What Does A Human Rights Approach Offer In Improving The Health Of Indigenous Australians? - Speech by Tom Calma.
Aboriginal and Torres Strait Islander Social Justice
What Does A Human Rights Approach Offer In Improving The Health Of Indigenous Australians?
By Tom Calma
Aboriginal and Torres Strait Islander Social Justice
Commissioner,
Human Rights and Equal Opportunity
Commission
MENZIES SCHOOL OF HEALTH RESEARCH 2007
ORATION
DARWIN, 8 NOVEMBER 2007
---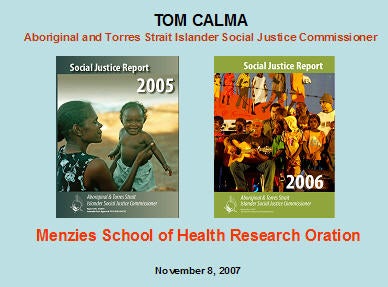 Slide 1: Introduction

Part 1: Introductory material
I would like to begin by
acknowledging the Larrakia people, the traditional owners of the land where we
meet today, and to pay my respects to their elders and thank Bilawara for her
warm welcome. Our Kungarakan lands share a common border with the Larrakia so I
am doubly pleased to acknowledge good neighbours.
Can I also thank the
Menzies School of Health Research and Professor Jonathan Carapetis for inviting
me to speak tonight. It is an honour to be asked to deliver the first Menzies
Oration in 6 years before such a distinguished group of people, and in my home
town to boot.
I would also take this opportunity to congratulate the
Menzies School of Health Research for the enormous contribution that it has
made, and continues to make, in improving our understanding of the health
situation faced by Aboriginal and Torres Strait Islander peoples in Australia.
Through its research, we have a better understanding of the cultural,
social, geographical and other factors that influence the health in
Australia's Indigenous societies. The result is a significant body of
research, recording and reflection on Indigenous knowledge systems, and more
than a few hints as to the directions we will need to go if we are to face the
gravest challenge facing the Australian nation – namely, the inequality in
life chances that exists for our First Nations peoples in this most prosperous
and generous of countries.
The Menzies school has a good working
relationship with the Human Rights and Equal Opportunity Commission. Together
we have collaborated on many occasions – together and through the
Cooperative Research Centre for Aboriginal Health. Most recently, this
cooperation has been through the campaign for Indigenous health equality within
a generation – or 'Close the Gap'. This campaign emerged from
the recommendations and research contained in my Social Justice Report 2005 to
the Federal Parliament.
In particular Dr Ngiare Brown, in her role as
Deputy Director of Menzies, has contributed extensively to the various
committees and working groups that have kept the campaign in the public eye and
contributed so much to its success. And so I give a big 'thank you'
to Ngi, and to 'Menzies' for supporting her in this work.
Congratulations also to Ngi and her husband Dave, and a big welcome to their
recently arrived daughter Yve.
As the Aboriginal and Torres Strait
Islander Social Justice Commissioner at the Human Rights and Equal Opportunity
Commission, or HREOC, I am required to report annually to the federal Parliament
on the status of enjoyment and exercise of human rights by Indigenous
Australians. This is called the Social Justice Report.
My Social
Justice Report for 2005 spoke at length to the poor state of Indigenous health
and health inequality (when compared to the non-Indigenous population) and the
right to health. That research was titled Achieving Aboriginal and Torres
Strait Islander health equality within a generation – A human rights
approach.
In the report I argued that human rights, and specifically the
right to health, ought to be guiding the development of policy and the delivery
of programmes to Indigenous peoples. And I set out a model for Australian
governments to follow based on the right to health.
In the eighteen
months since that report was released, it has received extensive consideration
domestically and internationally. It has, for example, been cited as
world's best practice in developing a scheme for implementing the right to
health by the United Nations Special Rapporteur on Health as well as being of
considerable interest to the World Health Organisation and other UN
agencies.
The reason why is that it is one of the first comprehensive
attempts to apply the right to health to the situation of Indigenous
peoples.
What I am going to do today is set out the main features of the
right to health strategy in this report, and the Close the Gap campaign that has
emerged from it. I am also going to frame some of the discussion as a response
to an article that appeared late last year in the Australian and New Zealand
Journal of Public Health authored by Ross Bailie and Natalie Gray, both of the
Menzies School, that was titled: Can human rights discourse improve the health
of Indigenous Australians?
In a spirit of engagement, I welcome the
opportunity to address some of the points that were raised in this article
because -- in my opinion – I think the conclusions reached in that article
got it wrong and significantly under-represent the potential and the capacity of
a rights to health approach to improve Indigenous health in Australia.
My central message tonight is to highlight the transformative value of a
rights based approach to achieve the lasting, sustainable improvements in
Indigenous health that we have all been striving for now for some time.
Part 1: The right to health and Indigenous health inequality in
Australia
There currently exists in Australia significant disparities in
the enjoyment of health status for Indigenous peoples. This exists across all
areas ranging from life expectation to chronic and communicable diseases, and
across all age groups. This is well known and for too many, it no longer shocks
and is a fact greeted with antipathy. And this should not be so.
The
health statistics reflect children who do not have the same chance at life as
their non-Indigenous friends. It reflects as grief and trauma and depression
and sadness at the loss of children, brothers and sisters, and parents. It
reflects as grandparents who spend their latter years caring for
grandchildren.
We all know the stories. And we share a common desire to
address this legacy.
So what does the right to health have to offer for
this situation?
(a) Equality of opportunity
Of particular relevance to Indigenous peoples in Australia is that the right
to health is the right to have opportunities to be healthy.
What this means, in practice, is that the State provides two things:
The first is the foundation for good health provided by safe drinking water,
hygienic conditions (with sewerage and garbage safely disposed of), healthy
housing, and a supply of healthy food for a start. I refer to this as
'health infrastructure'.
The second are health-related goods and services. That is, hospitals and
medicines for when people are already ill, and primary health care services that
aim to prevent ill health or detect it at an early stage. Health education and
promotion is also vital.
Further, the right to health obliges a
state to ensure that everyone – regardless of sex, race, age, sexuality
and so on – has an equal opportunity to be healthy.
And this is where the right to health is of direct relevance to Indigenous
people in Australia.
It means that from a health perspective, communities across Australia
(whether Indigenous or non-Indigenous) should enjoy a similarly healthy standard
of drinking water, can access roughly the same standard of fresh vegetables,
fruits and meat, and have their sewerage and garbage removed. It also means
that they enjoy a similar standard of housing – from a health perspective.
Further, it means that all people and communities should have equal access
to health services. Access means:

Physically accessible or reachable services,
Affordable services,
Culturally accessible services, for example, in the language you
speak, and
Non-discriminatory services.
And of
particular importance in relation to equality of opportunity to be healthy is
primary health care with its preventative emphasis. It is universally
recognised that ensuring health equality among the various groups in a
population will, to a great degree, depend on the access those groups have to
primary health care services, as well as health education and promotion.
It is a simple fact that in twenty first century Australia, Indigenous
peoples do not enjoy the same opportunities to be as healthy as the
non-Indigenous population. This is particularly evident in relation to access
to primary health care, medicines and health infrastructure.
For example - based on a national survey - it was estimated that in 2004,
Indigenous peoples enjoyed only 40% of the per capita access of the
non-Indigenous population to primary health care provided by general
practitioners. Further research – based on Indigenous peoples' use
of Medicare, indicates that the primary health care shortfall in communities can
be quantified at between $250 - $570 million per year. There are also
identified gaps in relation to health promotion and education.
Further, health infrastructure in many Indigenous communities, particularly
remote communities, does not provide the same foundation for good health as in
the rest of the country. Historically, contaminated drinking water supplies
– situations where sewerage, garbage and water supplies were mixing - was
a big cause of disease in communities and, of course, is still evident in remote
Australia, where trachoma and other communicable diseases are – to the
shame of this wealthy nation – still found. And another pressing element
that is counted as health infrastructure is housing and while time does not
permit me to discuss this at length, I am assuming the poor state of much
Indigenous housing and how it contributes to poor health is understood by this
audience because it is such a pressing issue in the Territory.
From a human rights perspective, securing Indigenous peoples'
equality of opportunity in relation to health is the foundation challenge facing
Australian governments. In other words, if healthy living conditions and
accessible primary health care existed in communities, targeted and sustainable
health programs aimed at reducing the burden of specific diseases, could be put
into place, with the overall goal of achieving health equality within a short a
time as is possible.
(b) Towards equality of opportunity – progressive realisation
But the right to health does more than simply allow us to identify this
problem. It also speaks as to how the inequality gap could be closed and it is
this aspect of the right to health upon which the Close the Gap campaign
proposed in the 2005 Social Justice Report is based.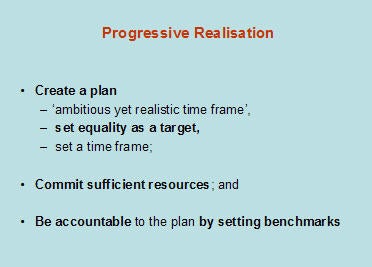 SLIDE 2 – PROGRESSIVE REALISATION
Article 2 of the International Covenant on Economic, Social and Cultural
Rights sets out the obligation to 'take steps' towards equality of
opportunity.
Now these are not steps in an unqualified sense. Steps towards equality in
terms of progressive realisation require a state to:
create a plan to provide equality within an 'ambitious yet realistic
time frame' – that is, a plan that sets equality as a target, and
the attainment of that target within a set time frame;
commit sufficient resources to the plan; and
be accountable to the plan by setting benchmarks. That is, if your overall
time frame for equality is ten years, a benchmark might be to have reduced
inequality by 50% within 5 years and have mechanisms in place to measure
achievement, or not, of that benchmark. In that way, benchmarks allow
governments to be made accountable and facilitate the maintenance of a focus on
achieving equality over the long term.
The current framework for
Indigenous health – the National Strategic Framework for Aboriginal and
Torres Strait Islander Health and associated programs -- does not have the core
requirements to constitute steps in terms of progressive realisation. Ambitious
yet realistic equality targets are striking in their absence from the current
response and that means that the National Strategic Framework cannot be
characterised as a rights based response. And the absence of targets creates a
lack of urgency around Indigenous health, and helps contribute to the
under-resourcing of it.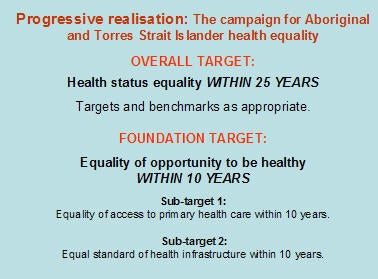 SLIDE 3
A rights based approach would ensure that commitments are accompanied by
targets and benchmarks over the short, medium and long term. And on the slide
above me are the targets that I recommended in the Social Justice Report last
year. The main ones are for health equality within 25-years and equality of
opportunity in relation to primary health care, housing and so on within
10-years.
(c) Other rights issues
Engagement
In part, the failure of the existing commitments and strategies to address
Indigenous health is also because of the failure of Australian governments to
engage appropriately with Indigenous peoples and develop strategies and programs
with the full participation of Indigenous communities.
Governments must ensure that Indigenous peoples have the opportunity to
participate effectively in all aspects of policy development and service
delivery that impact upon their communities.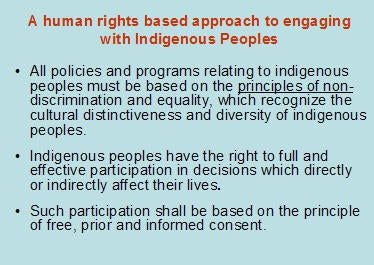 SLIDE 4
Principles relating to self-determination, non-discrimination, equality
before the law and minority group cultural rights have been interpreted as
requiring this. It is also set out in the Declaration on the Rights of
Indigenous Peoples that was adopted by an overwhelming majority of the General
Assembly of the United Nations this year.
The requirements for participation have been expressed as the principle of
free, prior and informed consent. At the international level, this is gaining
wide acceptance. It is based on the recognition that people are key actors in
their own development, rather than simply being passive recipients of services.
In fact – legal obligation aside - it is common sense that governments
risk failure if they develop and implement policies about Indigenous issues
without engaging with the intended recipients of those services. Bureaucrats
and governments can have the best intentions in the world, but if their ideas
have not been subject to the  'reality test' of the life
experience of the local Indigenous peoples who are intended to benefit from
this, then government efforts will fail in the medium to long term.
Empowerment
And best practice indicates that primary health care services should be
community controlled services.
Community controlled services are culturally, physically, and economically
accessible. Crucially, they empower Indigenous communities and people to look
after their own health. They literally speak the language of the community,
know the communities problems and are best placed to work out solutions –
for example, choosing to invest more of its funds into integrating drug and
alcohol counselling or mental health programs into its practice.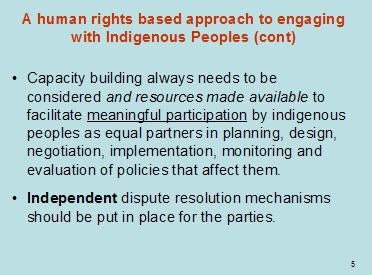 SLIDE 5
And it goes without saying that community control should also be subject to
human rights standards for participation, accountability and transparency. A
minority of Aboriginal community controlled services do face governance and
capacity issues that render them less effective in addressing the overwhelming
challenges facing the communities they serve. Addressing poor governance is
critical to success, as is addressing the lack of capacity faced by some
services – whether it be through under-resourcing, lack of skills capacity
or other reasons.
Part II: An address to Gray and Bailie's
argument
As indicated earlier, I wanted to make some comments about
the article that appeared late last year in the Australian and New Zealand
Journal of Public Health authored by Ross Bailie and Natalie Gray, titled: Can
human rights discourse improve the health of Indigenous Australians?
The
article argues that one of the major reasons for the ongoing and entrenched
Indigenous health inequality in Australia has been because of (and I
quote):
The traditional tendency of public health interventions to focus on the
provision of, and access to, health services rather than attempt to understand,
and have an impact on, the complex and multi-factorial root causes of the poor
health outcomes experienced by Indigenous Australians. (para 2) – end
quote
This, they suggest, has been because addressing many of these
social determinants falls into the 'too hard basket': that is, they
require a treaty, a thorough and meaningful reconciliation process or some such
other major 'structural' changes in order to shift. Or else, complex
inter-sectoral action outside of the health sector that the Australian
government system does not do well.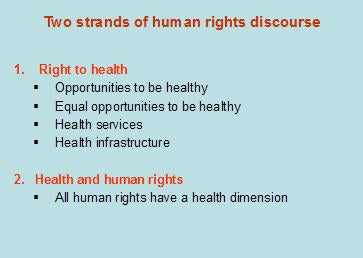 Slide 6:
Two strands of human rights discourse
Against this background, they examine the utility of two strands of the human
rights discourse around health. So what are the two strands from a human rights
perspective?
The first strand of discourse relates to the right to health – treated
in a relatively discreet fashion. The right to health is found in a range of
human rights instruments, but most prominently in the International Covenant on
Economic, Social and Cultural Rights at article 12, as set out on this slide.

SLIDE 7

To put it in a nutshell, the right is not a guarantee of good health (no
government can guarantee that against the vagaries of life), but it does oblige
governments to provide their citizens with opportunities to be healthy. What
this means is that governments provide health care services (the things that
Gray and Bailie highlight as being the focus of Indigenous public health
interventions so far), and also 'health hardware' or 'health
infrastructure' which are defined as healthy food, housing, sanitation,
potable water and other conditions that support health. And particularly in
relation to health hardware, there is some crossover with other social rights,
for example in relation to housing.
The second strand of discourse is the broader idea that all rights have
health impacts and hence all rights must be considered in relation to
populations' and Indigenous peoples' health. For example, the human
rights violations visited on Indigenous Australians such as by the practices of
forcible removal policies, while unable to be boxed away neatly as a
'violation of the right to health' had, and continues to have,
distinct mental and physical health impacts. And I highlight the work of Yin
Paradies from Menzies into the health impacts of racism as a further
illustration of the health impacts of rights violations other than the right to
health.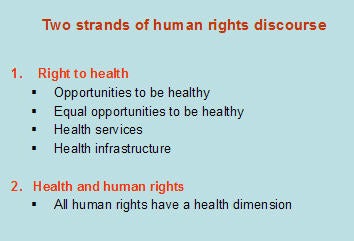 SLIDE 8
What Bailie and Gray argue is that policy focuses on addressing
health through the provision of health services, and does so at the expense of
an address to the social determinants that also determine health status. In
this context they argue that a focus on a 'right to health' –
as defined more narrowly - may ultimately be counterproductive and miss some of
the key ingredients for delivering improved health status.
In short, they
argue that the right to health is something of a blind alley. And that as a
line of discourse it may be something that distracts energies from the address
to the social determinants and structural issues that contribute to poorer
Indigenous health.
This they say is because (and I use their terminology)
no 'legal imperative' nor 'moral imperative' attaches to
the right to health. In part, they say this is because the right has poorly
defined content.
Notably, they cite the Social Justice Report 2005 as providing a way forward
and a 'positive step' in the right direction to addressing the
concerns they raise.
In many ways, the difference between the arguments made by Gray and Bailie
and those in the Social Justice Report are semantic. But I think there are some
flaws in the arguments put in this article which could undermine the importance
and understanding of a rights based approach to Indigenous health.
In
particular, I would challenge the articles' findings relating to the
'legal imperative' that they argue is lacking from the right to
health. The article begins by correctly pointing out that the international
treaties to which Australia is a signatory to (like ICESCR) are not self
executing. The significance of this they identify as being (and I quote)
that this:
significantly compromises not only the legal imperative of the human right
to health, but also the capacity of Indigenous Australians to claim that the
Government has an obligation to consider their economic and social rights (para
11).
My answer to this is that Gray and Bailie are fundamentally
confusing the idea of legal enforceability (in the sense of there being
mechanisms that a citizen can utlilise to hold governments to account for their
human rights obligations) with this notion of a legal imperative.
The
lack of accountability and procedural mechanisms through which citizens can hold
the government to account for its human rights obligations is a major weakness
in our legal system. Some of you may have attended a lecture I gave here in
Darwin back in early June this year relating to a Bill of Rights for the
Northern Territory in which I detailed the concerns about the lack of entrenched
human rights protections in the Territory. The NT intervention has clearly
demonstrated this lack of protection and the ease with which human rights can be
displaced by the Commonwealth government in the NT.
Providing appropriate
protection – including constitutional guarantees of non-discrimination -
remains one of the main challenges facing us as a Nation to ensure that the
rhetoric of the commitments that our government has made to us – the
Australian people – is matched with action.
But let us not confuse
the idea of legal imperative and a lack of political will to implement human
rights obligations. It is the lack of political will that is the issue here,
not the legal imperative itself.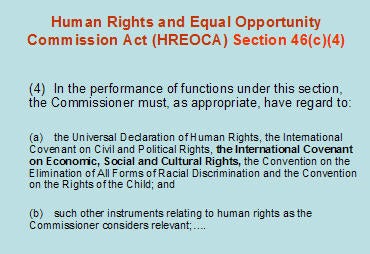 Slide 9: Section 46(C)(4) Human Rights
and Equal Opportunity Commission Act (HREOCA)
But the issue of political will and
enforceability aside, it is an error to assert -- as Gray and Bailie do in their
article -- that social and economic rights have not been incorporated into
Australian law at all. In fact, they are incorporated into federal law in a few
ways.
First, in section 46(C)(4) of the Human Rights and Equal
Opportunity Commission Act (HREOCA), the section that sets out my functions as
the Aboriginal and Torres Strait Islander Social Justice Commissioner. I am
mandated to consider the rights of Indigenous Australians with regard to the
International Covenant on Economic, Social and Cultural Rights and a range of
other instruments as set out on the slide above me.
I am also the
National Race Discrimination Commissioner and in this role I am charged with the
responsibility to monitor Australian governments and other actors compliance
with the Racial Discrimination Act (or RDA as I will call it). This Act -- as I
am sure we are all aware -- is the domestic enactment of the Convention on the
Elimination of all forms of Racial Discrimination. And the RDA also
incorporates the right to health into Australian law.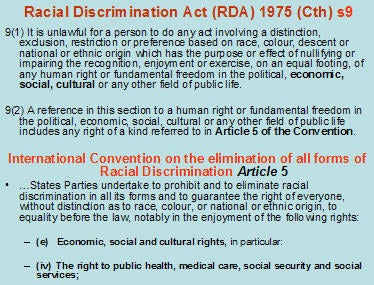 Slide 10:
RDA s9

Section 9(1) of that Act, states that:
It is unlawful for a person to do any act involving a distinction, exclusion, restriction or preference
based on race, colour, descent or national or ethnic origin which has the
purpose or effect of nullifying or impairing the recognition, enjoyment or
exercise, on an equal footing, of any human right or fundamental freedom in the
political, economic, social, cultural or any other field of public life.
Section 9(2) clarifies that a reference in section 9(1) to a human right
includes any right of a kind referred to in Article 5 of the Convention on the
Elimination of all forms of Racial Discrimination. Here at Article 5(e)(iv)
under the heading 'economic, social and cultural rights' is listed
'the right to public health, medical care, social security and social
services'.
Section 10 of the RDA also provides for a right to
equality before the law in relation to economic, social and cultural rights
– including the right to health.
So clearly, the right to health of
Indigenous peoples and other racial minorities in Australia is explicitly
protected from discriminatory incursions in Australian law.
I note,
however, that there have been limited attempts to hold governments accountable
for implementing this right to date.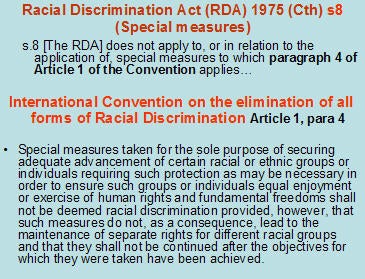 Slide 11: RDA
s(8)

If we continue looking at the RDA, section 8 refers to 'special
measures' as defined in Article 1(4) of the Convention on the Elimination
of all forms of Racial Discrimination.
Special measures are
particularly well designed to address deficiencies in any racial group's
enjoyment of their social and economic rights. And this is particularly so in
relation to inequality caused by historical discrimination over many years. And
I am sure we can all see how this (in terms of both a legal and moral
imperative) might apply to Indigenous Australians and our right to
health.
It is notable that Article 2(2) of ICERD explicitly refers to the
imperative to adopt special measures to address historically derived
disadvantage and inequality in the enjoyment of economic and social rights, such
as the right to health. That provision states that governments shall
"take, in the social, economic, cultural and other fields, special and
concrete measures to ensure the adequate development and protection of certain
racial groups or individuals belonging to them, for the purpose of guaranteeing
them the full and equal enjoyment of human rights and fundamental
freedoms".
This has been interpreted by many internationally as a
positive obligation on governments to take steps. In other words, if the
situation of inequality exists then it is required that steps be taken to
address this.
So again I do not think it can be argued, as Gray and
Bailie have done, that Australian law provides no leverage for Indigenous
peoples in relation to their right to health. We do, however, face a
significant issue of a lack of implementation of these existing human rights
obligations.
Make no mistake, the right to health discourse around
Indigenous health equality is fundamentally an argument to be treated equally:
to have the same opportunities as other Australians to be healthy and, where
appropriate, (and I believe the Indigenous health crisis in this country makes
it appropriate), to have enacted special measures to improve our health and our
opportunities to be healthy. That is what the Close the Gap campaign for
Indigenous health equality is all about.
I also want to briefly comment
on the article's contention that a right to health is too vague or
ill-defined. I mentioned earlier the progressive realisation principle that
sets out how the right to health should be realised. Like the right to health
itself, this principle is defined in broad terms, so to allow for flexibility in
addressing particular circumstances.
The rights based approach to health
provides a framework in which this clarity, as to what outcomes you are actually
seeking, is fundamental to how the programs are designed and implemented.
And this is something that is striking due to its absence from the
existing Government response to Indigenous health – including through the
National Strategic Framework for Aboriginal and Torres Strait Islander Health
and associated programs.
As I have said many times, I don't want
to hear about how a record amount of money is being spent by the government on
Indigenous issues. Instead I want to hear about the vision for what that
funding is meant to achieve. When will the life expectancy gap be halved and
then eliminated? What does the government see as an acceptable rate of
progress? And so on.
Through the Social Justice Report and the Close the
Gap campaign we have identified some broad over-arching commitments that we
believe should be made. These are achievable, and are based on evidence. And
remember, the main targets that we propose are as follows: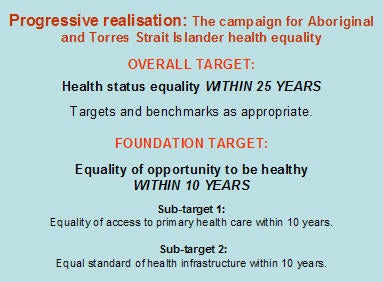 SLIDE 12

25 years for health and life expectation equality;
10 years for equality of opportunity in relation to primary health
care;
10 years for equality of opportunity in relation to health
infrastructure.
There is much work still to be done to specify
the components for achieving this, including in the short term and on specific
diseases and across the social-determinants that impact on Indigenous
health.
This is clearly not ill-defined or vague. On the contrary
–it provides a focus and a level of accountability that has been lacking
for too long.
I believe that we now have before us a historic opportunity
to advance these issues and to achieve health equality for Aboriginal and Torres
Strait Islander peoples. And the right to health provides us the pathway to
achieve this. Importantly, it provides the pathway that inspires us to believe
once again that achieving health equality is not a pipe-dream, but something
that is utterly achievable and realistic.
It is perhaps ironic that we
now have a historic opportunity to achieve this due to the NT intervention. You
may know that I have serious concerns about aspects of the intervention and have
consistently called for it to be:
non-discriminatory in its impact;
developed with the full and effective participation of Indigenous people
and communities; and
based on a human rights based approach that incorporates a capacity
development approach so that the outcomes are sustainable for Indigenous
communities to take responsibility and function into the longer
term.

SLIDE 13
What we have seen in the initial stage of the intervention is the
conduct of health checks that have identified the serious shortfall in health
services for Indigenous peoples in these communities. This has been a primary
task of the survey teams in communities combined with the health check teams.
The Prime Minister and the Minister for Indigenous Affairs have made
clear that their commitment extends to addressing the health crisis in
Aboriginal communities in the Territory. And they have already committed big
dollars to address this.
We need to harness this opportunity. An
opportunity that is, in essence, a commitment to Close the Gap. There can be no
excuse for avoiding this major issue any more.
The federal government has
made clear that the NT intervention is proceeding in stages, with phase one
being the 'securing' of communities and phase two being the
addressing of the longer term issues facing those communities.
Ultimately, it comes down to the process and the method used to achieve
this aim. From a health perspective, I would question the current method being
adopted which circumvents the Aboriginal community controlled health sector to a
large degree. If we are serious about long term, sustainable results then we
have to be concentrating on building the capacity of these services, as well as
monitoring and evaluating progress so we can better identify what the success
factors are.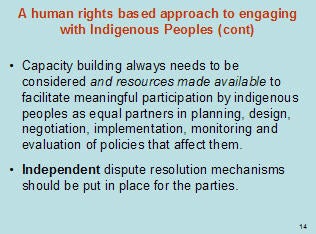 SLIDE 14

We won't achieve anything more than short term results by sending
volunteers into communities outside of the community controlled
sector.
Why can't the doctors be going to work for community
controlled organisations?
Why can't the needs assessment be based
on building the capacity of community organisations as the focal point for
delivery of services to the community?
These are serious questions and
they need to be answered as the intervention unfolds. Ultimately, they may
provide a more cost effective way of providing the services in the first place,
with the added effect of building the community's internal controls with a
flow on effect to the self-esteem and sense of dignity of individual community
members.
Conclusion
In conclusion, as a Nation we pride ourselves on being the 'lucky
country' and on giving everyone a 'fair go'. Yet we remain
largely unconcerned that the basic facilities for good health do not exist for
many Indigenous people both in the NT and across Australia.
Governments cannot guarantee that their citizens will be healthy – that
involves individual choice and freedom. But they can guarantee that every
opportunity has been provided to facilitate this outcome. That is the value of
a rights based approach to Indigenous health – it keeps this issue in the
spotlight and provides an analytical framework that is otherwise missing from
policy development.
At present there is not a level playing field - an Indigenous child born
today does not have the same life chance as a non-Indigenous child.
The current situation cannot be allowed to simply drift along without
accountability and without targeted action.
It is time to stop being disappointed at our lack of achievement on
Indigenous health and dare to dream about a positive future for all
Australians.
In the Close the Gap campaign that has emerged from the Social Justice Report
and its right to health framework, our primary message is not to simply scream
'crisis'. Our message, and our goal, is to champion hope and to
focus on solutions, because the Indigenous health crisis is not insurmountable.
We can triumph.
We are making steps, but they are too slow and not broadly focused
enough.
It will require additional funds, although this alone is not the solution.
The NT intervention has blown out of the water the fallacy that the funding
that is required cannot be made available. There is no longer any excuse for
not acting, as we have tangible evidence that action is possible if government
thinks it is important enough.
It will also require a focus on the social determinants of health –
living conditions, overcrowding in housing, education and employment. This is
not just a health sector responsibility. This requires a whole-of-government,
cross departmental approach and it will also require meaningful collaboration
with State and Territory governments.
Let us work together to commit to a timeframe for action to ensure equality
of opportunity to be healthy.
Why, I ask, should we believe we can halve poverty in Africa by 2015 –
as the Millennium Development Goals promise to do – and yet we are not
bold enough to commit to action for Indigenous health within Australia?
Thank
you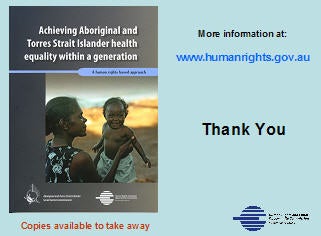 Slide 15: