Appendix 5 - Maintenance of Indigenous Languages and Records program – Funding 2008–09: Social Justice Report 2009
Social Justice Report 2009
Appendix 5: Maintenance of Indigenous Languages and
Records
program – Funding 2009–10
---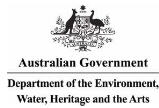 Maintenance of Indigenous Languages and Records program
2009–10
The Maintenance of Indigenous Languages and Records (MILR) program aims to
address the steady erosion and loss of Australia's estimated original 250
Indigenous languages by providing funding support for the maintenance and
revival of these languages.
The emphasis of the program is on supporting community based projects by
language groups, language research, and the development and coordination of
language resources.
Many of the projects supported seek to record and document the last remaining
speakers of a language, so that this can be retained and passed on to future
generations. The range of projects funded include the operation of language
centres, transmission of language from generation to generation, production of
language materials and resources, recording of languages, development of
databases and support of coordination between language organisations. Amongst
these recommended projects the MILR program also supports a number of key
national pilot projects to build on emerging trends and develop and test new
language initiatives.
The demand for MILR funding in the 2009–10 funding round was very
competitive with 104 submissions seeking over $18 million in funding. A total of
64 projects were approved for $8.8m. Two applicants were granted triennial
funding.
Projects receiving funding have been assessed in accordance with the MILR
program guidelines and will contribute to the maintenance of Indigenous
languages and help build a strong and sustainable Indigenous languages
environment.
The MILR program is part of the Australian Government whole of government
Indigenous funding round coordinated by the Department of Families, Housing,
Community Services and Indigenous Affairs. The Department assessed and managed
applications within the whole of government timeframe and entered into funding
agreements with recipients of funding.
MILR Triennial Funding 2009–10 to 2011–12
Location

Organisation

Project Description

Funding

2009–10

Funding

2010–11

Funding

2011–12

CARDIFF

Arwarbukarl Cultural Resource Association Inc.

To undertake language revival and develop innovative language resources for
the Arwarbukarl language of the Newcastle and Lake Macquarie area.

$310,000

$325,200

$341,150

TENNANT CREEK

Papulu Apparr-Kari Aboriginal Corporation

To operate the Papulu Apparr-Kari Indigenous Language Centre in the Barkly
Region, at Tennant Creek.

$320,000

$329,000

$338,000
NOTE: The 2009–10 funding for the projects outlined above has also been
included in the Recommendations for Annual Funding.
MILR Annual Funding 2009–10
New South Wales

Location

Organisation

Project Description

Funding

ARMIDALE

Trustees of the Roman Catholic Church of the Diocese of Armidale

To support the revival of the Gamilaaray Yuwaalaraay language in
Dubbo.

$90,000

ARMIDALE

Trustees of the Roman Catholic Church of the Diocese of Armidale

To develop online resources to provide access to the Gayarrag, Winangali
languages electronic collection.

$11,000

CANBERRA

Australian Institute of Aboriginal and Torres Strait Islander Studies
(AIATSIS)

To continue to develop community access to the national database of
Indigenous languages.

$100,000

CANBERRA

Australian Institute of Aboriginal and Torres Strait Islander Studies
(AIATSIS)

To facilitate the continuation of the Online Language Community Access
Program nationally.

$221,261

CARDIFF

Arwarbukarl Cultural Resource Association Inc.

To undertake language revival and develop innovative language resources for
the Arwarbukarl language of the Newcastle and Lake Macquarie area.

$310,000

DUBBO

Murdi Paaki Regional Enterprise Corporation Limited

To conduct a teaching program including the Murawarri and Yuwaalaraay
languages in Goodooga.

$28,000

FORBES

Yoorana Gunya Family Violence Healing Centre

To support the maintenance of Indigenous languages through a community
language team.

$91,560

GRIFFITH EAST

Griffith Wiradjuri Aboriginal Preschool Inc.

To conduct a Wiradjuri language revival and reclamation activity in the
Griffith Wiradjuri Aboriginal Preschool.

$32,000

LIGHTNING RIDGE

Barriekneal Housing & Community Ltd

To deliver a Gamilaraay-Yuwaalaraay language program for youth.

$40,200

NAMBUCCA HEADS

Muurrbay Aboriginal Language and Culture Co-operative

To record and revive the Gumbaynggirr language in Nambucca.

$244,830

NAMBUCCA HEADS

Muurrbay Aboriginal Language and Culture Co-operative

To operate a regional language centre and support the maintenance of
Indigenous languages in the Coffs Harbour region.

$257,600

NEWTOWN

Centre for Indigenous Technology – Information and Engineering
Solutions

To develop a series of innovative electronic games which can be used to
teach Indigenous languages.

$18,707

ORANGE

Orange Aboriginal Land Council

To support the community to revive, relearn and maintain the Wiradjuri
language in Orange.

$70,000

WALGETT

Dharriwaa Elders Group Incorporated

To develop a language program to increase use of Indigenous languages in
Walgett.

$90,000
Northern Territory

Location

Organisation

Project Description

Funding

ALICE SPRINGS

Institute for Aboriginal Development

To develop and publish Indigenous language resources for use within
Australia and overseas.

$100,000

BATCHELOR

Batchelor Institute of Indigenous Tertiary Education

To support the Wadeye Aboriginal Languages Centre and community members in
the collection and publishing of data.

$212,500

BORROLOOLA

Mabunji Aboriginal Resource Association Incorporated

To record and document the Garrawar, Yanyula, Mara and Gurdanji languages
of the Borroloola region.

$145,000

DARWIN

Northern Territory Library

To support the maintenance of Northern Territory Indigenous languages
through the development of bilingual early literacy resources.

$69,720

DARWIN

Yothu Yindi Foundation Aboriginal Corporation

To encourage the practice, preservation and maintenance of Yolngu Matha and
to share this at the Key Forum at the Garma Festival of Traditional
Culture.

$60,000

DEVONPORT

Big Hart Incorporated

To produce multi-media language resources to accompany a new theatre
production, Nyuntu Ngali.

$129,990

JABIRU

West Arnhem Shire Council

To record, document, transcribe, translate and archive the Kunwinjku
language.

$140,140

JABIRU

West Arnhem Shire Council

To record, document, transcribe, translate and archive and develop
publications in the Iwaidja language.

$157,450

KATHERINE

Diwurruwurru-Jaru Aboriginal Corporation

To document and preserve the 20 endangered languages of the Katherine
region including the Mara endangered language.

$242,000

KATHERINE

Diwurruwurru-Jaru Aboriginal Corporation

To support the Katherine Regional Aboriginal Language Centre to facilitate
language maintenance and revitalisation.

$293,750

PARAP

Aboriginal Resource and Development Services Inc.

To record and produce an audio CD in Djambarrpuyngu language at
Galiwinku.

$58,116

PARAP

Aboriginal Resource and Development Services Inc.

To record and preserve the endangered Dhangu/ Djangu language.

$67,300

PARAP

Aboriginal Resource and Development Services Inc.

To further develop an English to Yolngu Matha (Dhuwal) language electronic
dictionary.

$33,000

PARAP

Aboriginal Resource and Development Services Inc.

To revitalise and preserve the critically endangered Gurrangay Matha
language.

$70,000

TENNANT CREEK

Papulu Apparr-Kari Aboriginal Corporation

To contribute to operational costs of the Papulu Apparr-Kari Indigenous
Language Centre in the Barkly Region, at Tennant Creek.

$320,000

YIRRKALA

Buku-Larrnggay Mulka Centre

To provide a digital cultural archive service and multi-media production
centre at Yirrkala, Arnhemland.

$55,000
Queensland

Location

Organisation

Project Description

Funding

BEENLEIGH

Kombumerri Aboriginal Corporation for Culture

To document and record languages through Community language teams in
Mitchell, Cunnamulla, Dirranbandi and Yugambeh.

$150,000

BUNDABERG

Gidarjil Development Corporation Limited

To record, revive, preserve, educate and increase awareness of endangered
Indigenous languages in the Central Queensland region.

$125,000

CAIRNS

North Queensland Regional Aboriginal Corporation Languages Centre

To address the dwindling status of the language groups in the region by
supporting communities to maintain and record their language.

$285,500

GUNUNA

Woomera Aboriginal Corporation

To teach and ensure intergenerational transmission of the Lardil and
Kaiadilt languages at Mornington and Bentick Islands.

$53,500

HERVEY BAY

Korrawinga Aboriginal Corporation

To coordinate the revival and maintenance of the Butchulla language in the
region of Hervey Bay and Fraser Coast.

$108,800

LONGREACH

Desert Channels Queensland Inc.

To preserve and support the Indigenous languages of the Desert Channels
region.

$10,150

PORMPURAAW

Pormpuraaw Aboriginal Shire Council

To maintain, document and increase the knowledge and use of the key
languages spoken in Pormpuraaw.

$32,400

ROCKHAMPTON

Saima Torres Strait Islander Corporation

To facilitate and revive Kala Lagua Ya, Meriam Mir, Kala Kawaw Ya, Kriol
and Kulkagal dialects through language workshops and classes.

$42,587

SHELDON

Waanyi Nation Aboriginal Corporation

To restore revive and develop the Waanyi Language Culture in Doomadgee and
surrounding areas.

$75,000

BRISBANE

Library Board of Queensland

To coordinate meetings and networking between language centres in
Queensland, New South Wales and Victoria to assist in strategic planning for
languages around revival of languages particularly utilising new
technology.

$120,000
South Australia

Location

Organisation

Project Description

Funding

ADELAIDE

University of Adelaide

To develop and trial family language policy and resources for the
transmission and revival of Indigenous languages in South Australia.

$135,208

ADELAIDE

Dieri Aboriginal Corporation

To continue to revitalise the Dieri language through training and language
classes.

$56,700

ADELAIDE

University of Adelaide

To produce Nyangumarta resources and support the training of a Nyangumarta
speaker to revive the language.

$108,514

CEDUNA

Tjutjunaku Worka Tjuta Inc.

To produce resources and provide training to support the revival of the
Wirangu language.

$61,800

COPLEY

Nipapanha Community Inc.

To produce audio-visual documentation of Adnyamathanha language speakers at
traditional sites and also produce a song book.

$80,000

MOONTA

Narungga Aboriginal Progress Association Inc.

To develop resources and teaching partnerships to promote the use of the
Narungga language in the community.

$83,800

PORT ADELAIDE

Tauondi College Incorporated

To conduct language classes and language immersion activities to revitalise
the Adnyamathanha language.

$65,000
Victoria

Location

Organisation

Project Description

Funding

ELWOOD

Resource Network for Linguistic Diversity

To develop a training program to enhance the capacity of language workers
to document, retrieve and reintroduce Indigenous languages nationally.

$74,000

MELBOURNE

Federation of Aboriginal and Torres Strait Islander Languages
(Corporation)

To provide support for the revival, maintenance and promotion of Indigenous
languages nationally.

$420,000

MELBOURNE

Victorian Aboriginal Corporation for Languages

To conduct community-based Indigenous language programs throughout Victoria
to retrieve, document and revive Victorian Indigenous languages.

$542,160

MILDURA

Mildura Aboriginal Corporation Inc.

To support the transfer of knowledge of the Barkindji language between
elders and children in the Mildura region.

$26,500
Western Australia

Location

Organisation

Project Description

Funding

ALICE SPRINGS

Ngaanyatjarra Media Aboriginal Corporation

To record and develop resources of the Ngaanyatjarra languages and make
these accessible to the Yarnangu people.

$65,000

BATCHELOR

Batchelor Institute of Indigenous Tertiary Education

To support the Danjoo Moordyap Darbakan – Noongar language revival
and retrieval in the region.

$270,633

DERBY

Madjulla Incorporated

To support the revival and maintenance of Nyikina Language and Culture in
the West Kimberley of WA.

$50,750

GERALDTON

Bundiyarra Aboriginal Community Aboriginal Corporation

To provide language services through the Irra Wangga Language centre to
revive and maintain the Indigenous languages in the Midwest, Murchison and
Gascoyne regions.

$345,175

HALLS CREEK

Kimberley Language Resource Centre

To revive and maintain Indigenous languages in the Kimberley region,
Western Australia.

$440,358

KUNUNURRA

Mirima Council Aboriginal Corporation

To assist in the maintenance of language across the Kununurra region, East
Kimberley.

$178,449

KUNUNURRA

Mirima Council Aboriginal Corporation

To document Miriwoong grammar in the Kununurra region, East
Kimberley.

$40,293

ROEBOURNE

Juluwarlu Group Aboriginal Corporation

To record and document the Yindibarndi language, and develop resources for
teaching.

$70,000

SOUTH HEDLAND

Wangka Maya Pilbara Aboriginal Language Centre (Aboriginal
Corporation)

To operate an Aboriginal Language Centre that facilitates language
maintenance in the Pilbara region.

$286,559

SOUTH HEDLAND

Wangka Maya Pilbara Aboriginal Language Centre (Aboriginal
Corporation)

To record and archive the languages of the Pilbara region.

$197,740

SOUTH HEDLAND

Wangka Maya Pilbara Aboriginal Language Centre (Aboriginal
Corporation)

To support language services in the Western Desert region.

$147,500

WEST PERTH

Western Desert Lands Aboriginal Corporation (Jamukurnu Yapalikunu)

To extend the Martu vocabulary to incorporate key structures and concepts
for mainstream society.

$60,800
Tasmania

Location

Organisation

Project Description

Funding

HOBART

Tasmanian Aboriginal Centre

To record, reconstruct, revive, maintain and promote the Palawa Kani
Tasmanian Aboriginal Language.

$290,000