Appendix A: Complaints to the Australian Human Rights Commission - Effectively preventing and responding to sexual harassment: A Code of Practice for Employers (2008)

Effectively preventing and responding to sexual harassment: A Code of
Practice for Employers
Appendix A: Complaints to the Australian Human Rights Commission
Download
---
The President of the Australian Human Rights Commission (the Commission),
with the assistance of the Complaint Handling Section (CHS), is responsible for
the management of complaints lodged under federal human rights and
anti-discrimination law.
A flow chart of the process for handling complaints of unlawful
discrimination, including complaints under the Sex Discrimination Act alleging
sexual harassment, is provided below. The Commission aims to handle complaints
in a way that is accessible, flexible, timely and effective.
More information about the complaint process can be found at the Complaint
Handling Section of the Commission's website at www.humanrights.gov.au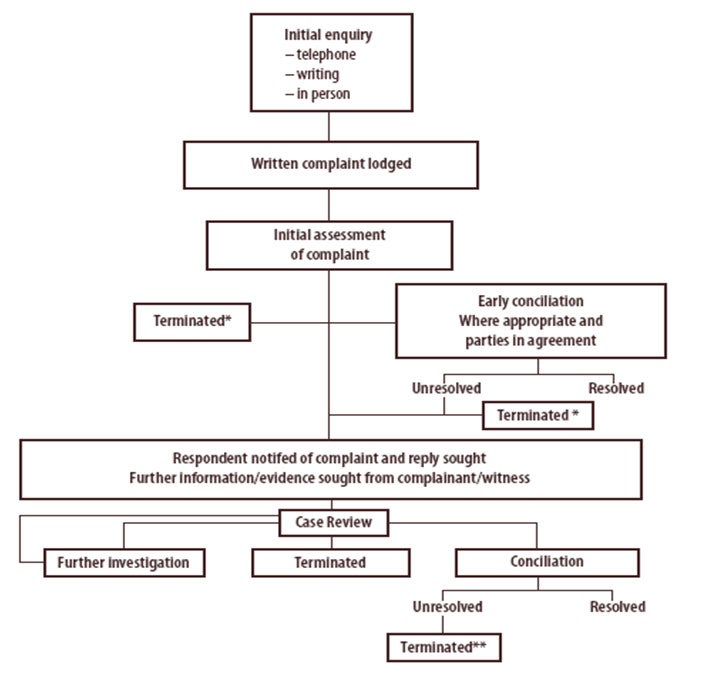 * When complaints under the Age, Racial, Sex and Disability Discrimination
Acts are terminated, the complainant may apply to have the allegations heard and
determined by the Federal Court or the Federal Magistrates Court
Key features of the Commission's complaint process are summarised
below.
Complaint information
Many complaints to the Commission start with a telephone call or an e-mail
to the Commission's Complaint Information Service on 1300 656 419 or (02)
9284 9888. An initial telephone conversation with a Complaint Information
Officer will usually help clarify whether or not the person's concerns may
be covered by federal law. If the enquirer's concern appears to be
covered, the Complaint Information Officer will provide them with information
about how they can lodge a complaint and send a complaint form.
Officers can also refer callers to community advocacy and legal centres
where they may be able to obtain assistance to pursue a complaint. Where the
issue appears to be outside the Commission's jurisdiction, enquirers are
provided with contact details for other organisations that may be able to
assist.
Complaint lodgement and assessment
Complaints can be lodged by individuals, or by individuals or organisations,
on behalf of others; including on behalf of a class of people. Making a
complaint is free and people do not need to be legally represented.
Complaints can be lodged in any written form including by letter, fax or
e-mail. On-line and hard copy complaint forms are available. CHS Officers will
assist a person put their complaint in writing if necessary and complaints can
be made in any language.
All incoming correspondence is assessed by the Director of Complaint
Handling generally within two days of receipt. This ensures quality assessment
of issues and enables matters to be allocated for priority handling and
fast-tracked to resolution, where this is appropriate. Complaints assessed for
priority action, such as those where the person is in ongoing employment and
alleging that they are being subjected to ongoing sexual harassment or
discrimination, are generally allocated to an officer within a few days of
receipt.
Complaint inquiry
A Commission officer will contact the complainant and the person or
organisation who is being complained about (the respondent) to discuss the
complaint and how it will be handled.
In many cases, the next step in the complaint process involves the
President, or her Delegate, issuing a customised letter of inquiry to the
respondent, which requests a reply to the complaint.
The complaint process is, however, flexible and when respondents are advised
of complaints either verbally or in writing, they are also provided with the
opportunity to proceed to conciliation prior to providing any formal reply.
On receipt of the respondent's reply to the complaint, the information
provided by both parties is assessed and a recommendation is made that either
conciliation should be attempted, or the President should terminate the
complaint. It is the Commission's general practice to provide
complainant's with a copy of a respondent's written reply.
Prior to any decision that a complaint is to be terminated, for example on
the ground that it is lacking in substance, complainants are given an
opportunity to provide further information or submissions. Where a complaint is
terminated, detailed reasons for the decision are provided.
The aggrieved person has 28 days from when the complaint was terminated to
apply to have the matter heard by the Federal Court of Australia or the Federal
Magistrates Court.
Conciliation
Conciliation is an informal and flexible approach to resolving complaints.
Conciliation allows the parties to a complaint to state their point of view,
listen to each other, discuss the issues in dispute and resolve the matter in a
way that is acceptable to everyone involved.
Commission conciliators are impartial and are not an advocate for either
party. Their role includes making sure that each party has an opportunity to
present their point of view; providing information to the parties regarding the
law; assisting the parties consider and explore possible terms of resolution;
and intervening with a view to enabling substantive equality of process.
The appropriateness of attempting conciliation is assessed on a case by case
basis and conciliation is not required to be undertaken with every
complaint.
Conciliation may be attempted at any time during the complaint process and
this can take place very early in the process.
The Commission aims to hold conciliation conferences in locations that are
convenient and accessible to the parties and CHS officers regularly travel to
conduct conferences interstate and in regional and remote areas.
Conciliation can happen in a number of ways - it can take the form of phone
calls between the CHS officer and each of the parties, a teleconference or a
face-to-face conference. While the majority of the Commission's
conciliation processes are conducted in the form of a face–to-meeting
between the parties, it may not always be necessary or appropriate to bring the
parties together. For example, where there is a significant power imbalance
between the parties, where one party is emotionally vulnerable, or where a
face-to-face meeting may exacerbate feelings of distress and anxiety,
alternative conciliation formats are used.
In terms of confidentiality, the Commission cannot include anything that is
said or done in the course of conciliation proceedings in any report that may be
provided the court if the complaint is not resolved. Where a complaint is
resolved through the Commission's conciliation process, this is usually
documented in a conciliation agreement which is signed by the parties. Parties
can seek a wide range of outcomes in conciliation, such as an apology, policy
changes, financial compensation or staff training. The Commission does not
require the terms of conciliation agreements to be confidential and this is a
matter that is negotiated between the parties.
---