Disability Rights: Not for Service - Report: Foreword HICKIE
Not for Service - Experiences of injustice and despair in mental health care in Australia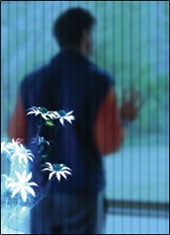 Professor of Psychiatry and Executive Director, Brain & Mind Research Institute, University of Sydney
In the early 1990s, as a result of a decade of clinical innovations in community-based mental health care, Australia occupied a unique position internationally. Community, political and professional enthusiasm for a major overhaul of mental health was evident. National leadership was clear and major policies and plans were set in place. Innovation was supported directly by national funding and key movements to promote better community understanding were born. It can be argued that a great deal was achieved between 1993 and 1998. Services were largely moved out of asylums and the needs and rights of those with mental illness and their families were formally recognised. The development of a broad population-based agenda for both prevention and treatment of common mental disorders was supported. National standards for specialist services were constructed. The national mental health survey detailed the extent of mental disorders in the community. The patterns of health care usage described provided the evidence-base for other major reforms in community education, preventative psychiatry and general practice reform.
Since the late 1990s, however, there have been persistent and disturbing reports of fundamental service failures. These reflect disorganised and dislocated health and welfare systems and a lack of commitment to the provision of quality mental health care, particularly in the public sector. Community-based care depends not only on organised health services but coordination of welfare, housing, police, justice and emergency care services. Multiple state-based inquiries have been conducted by health departments, coroners, auditor-generals, parliamentary committees and non-government organisations. The Brain and Mind Research Institute has now worked with the Mental Health Council of Australia on two national reports. 'Out of Hospital, Out of Mind' was published in 2003 and now ' Not for Service' in 2005. Both have been based on a combination of qualitative and quantitative methods. Fundamentally, they rest on extensive consultations with persons with mental illness, their families and carers. Additionally, they include the perspectives of those health care professionals who provide services at local level. Tragically, the themes from all these investigations converge. When any of us seeks mental health care we run the serious risk that our basic needs will be ignored, trivialised or neglected.
In our view, such ad hoc reports of system failures should be unnecessary. We should have in place government-supported but independently conducted systematic reviews of access to care, experiences of care and human rights. Contrary to the view put by most State and Territory governments, and consistent with data collected in 2003/04 in Victoria , we suspect that the adverse experiences we reported in 2003 and again now in 2005 are not isolated or unusual incidents. Instead they appear to be the tip of an iceberg of poor quality and disrupted experiences of mental health care. In the Victorian survey of persons utilising adult mental health services, negative experiences (related to access to care, information, protection of rights and meeting of individual needs) were reported by 28-42% of consumers and 42-55% of carers. It should be clearly unacceptable within our health systems for somewhere between a third and a half of persons to report such negative experiences.
We urgently need all Australian governments to commit to a process of genuine and well-resourced reform. What we do not need is continued blaming of those who use the services, those professionals who provide the services or those independent bodies who report on them. Continuation of this culture of blame will only worsen the workforce crisis in public sector mental health services. Consistent with this approach, we were advised by Health Departments that this report represented a further threat to the viability of the mental health care system. We were implored to write a 'balanced' rather than 'accurate' report. It was clearly assumed by most States and Territories that they provide high quality care on a day to day basis, despite the lack of any substantive data to support that claim.
For genuine and rapid progress we now need more than committed individuals. Most of our current leaders have recently expressed some support for national reform. However, we need major actions, support for innovation in mental health care and enhanced whole-of-government approaches (e.g. to solve accommodation or employment issues). Independent and genuine scrutiny of progress is essential. Given the likelihood that every family in Australia will be affected by mental health problems at some stage, it can no longer remain an isolated and marginal concern.
While many 'blueprint' documents for mental health reform have been produced by governments, what has been unclear is whether any government is prepared to accept responsibility for implementing real actions. As demonstrated by our organisations over recent years, together with our community and legal partners, we will continue to monitor closely the adverse impacts of systematic neglect on the lives of those who experience mental illness.
© Mental Health Council of Australia 2005. Last updated 29 August 2005.
Email:
admin@mhca.com.au