Get the Facts - Fact Sheet 1
Get the Facts - Know your rights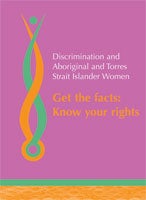 ---
Indigenous Women and Pregnancy Discrimination
FACT SHEET 1: What is discrimination?
Discrimination can occur when a person or a group of
people are treated less favourably than another person
or group because of race, colour, national or ethnic
origin; sex or marital status; disability; religion or
political beliefs; sexual preference; or some other
central characteristic.
For many Aboriginal and Torres Strait Islander women,
discrimination is still a common experience.
Discrimination occurs when a person is denied the
opportunity to participate freely and fully in normal
day-to-day activities. That includes being denied entry
to public places and other facilities; being denied goods
and services; difficulty in obtaining appropriate
accommodation and housing; not being able to join a
trade union and discrimination in the workplace.
Australia's laws protect women in their employment
against discrimination because of their sex. Sex
discrimination includes discrimination because a
woman is pregnant, may become pregnant or is
breastfeeding.
Laws also protect people against discrimination on the
basis of their race or the colour of their skin.
As well as national discrimination laws, individuals'
rights at work are governed by State discrimination
laws, employment laws, and laws about health and
safety in the workplace. Industrial awards and
agreements which regulate employment in industries
or workplaces also help to protect women and
ensure workplaces are free from discrimination
and harassment.
These help to make sure that women have not just the
right to work while they are pregnant or breastfeeding,
but they are treated the same as other employees. Generally, it is against the law for employers to treat
you differently from any other employee unless you
need and ask for special arrangements to be made
because of health and safety reasons.
Example: Carla has applied for a job as a
beautician. When she arrives for an interview the
employer tells her that the salon's clients will not
like being treated by Aboriginal women and so
she won't be able to offer her the position. The law
calls this direct discrimination.
The information in this package is intended as a general
guide only and you should obtain legal advice if you
have specific questions about your rights under
discrimination legislation. Fact Sheet 12 in this series
contains details of organisations who can assist you if
you think you have experienced discrimination.
These fact sheets and brochure have been developed
by the Australian Human Rights Commission (the Commission) in partnership with the
National Network of Indigenous Women's Legal
Services Inc.
Funding has been provided by the Attorney-General's
Department, the Australian Government Office for
Women, and the Office of Indigenous Policy
Coordination