Get the Facts - Fact Sheet 11
Get the Facts - Know your rights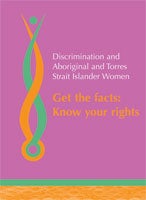 ---
Indigenous Women and Pregnancy Discrimination
FACT SHEET 11: Getting Help
Seek Advice
If you think you might want to make a complaint
about discrimination you should contact the Commission's
Complaints InfoLine on 1300 656 419 as soon as
possible.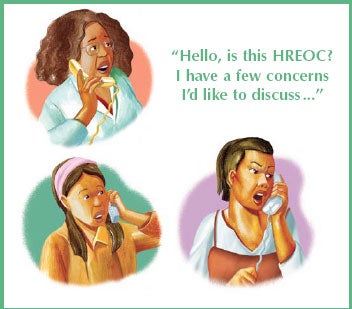 This is especially important if you have been sacked,
because if you decide to take legal action to get your
job back through an Industrial Relations Commission,
you may have as little as 21 days to lodge an
application. For most complaints about discrimination
to anti-discrimination agencies such as the Commission you
have between six months and one year to make a
complaint.
There are lots of other organisations that can help you
if you need more information about discrimination,
pregnancy at work or breastfeeding. At first it can help
to talk to other women in your family or community.
They might not be able to give you all the answers, but
it can help you to work out what you would like to do
and give you personal support.
Some of the best places to get advice about
discrimination at work are from an Indigenous
Women's Legal Service, general Aboriginal Legal
Services or Working Women's Centre in your area.
These organisations have lots of experience with issues
about work and have a special focus on working with
Indigenous women. You can find your nearest service
by contacting one of the Indigenous Women's Legal Services listed on the Contacts Fact Sheet or contacting
the National Association of Community Legal Centres
on (02) 9264-9595 or at www.naclc.org.au.
Trade unions are also there to make sure that their
members' rights at work are protected. They will be
able to give you advice about the industry you work in
if you are a member. Some unions also have specialist
staff who look after Indigenous workers and/or women
members. If you don't belong to a union you can find
out which union to join by contacting the Australian
Council of Trade Unions (ACTU) Union helpline on 1300 362 223.
These services can give you advice in private and will
protect your confidentiality. You do not need to have
decided to make a formal complaint and can discuss
what is happening at work so that you have enough
information to make a decision about what to do. Legal
and women's services will also be quite happy for you
to take a friend or family member with you when you
go to talk to someone about your situation.
Making a complaint about discrimination
If you think you have been treated unfairly or
discriminated against in your workplace it is often best
to talk to your supervisor, employer or manager first. It
may be that the problem can be sorted out in your
workplace without you having to take any further
action, which can be the quickest and easiest way of
solving the problem. Obviously, you might not want to
do this if it is the supervisor, employer or manager who
is causing you the problem and there is no
requirement that you do so.
You can also talk to an organisation such as
an Aboriginal Legal Service, Community
Legal Centre, Working Women's Centre or
trade union who may be able to approach
your employer on your behalf and make
sure that the problem is fixed. It is against
the law for you to be victimised or further
discriminated against because you have
made a complaint or are intending to make
a complaint. This includes other people if
they are helping you make a complaint or
providing evidence about your complaint.
The Commission's Complaints Process
Step 1: Phoning the Commission's Complaints InfoLine
Many complaints begin with a phone call to
the Commission's Complaints InfoLine. This can be of
help in checking whether or not what you are
complaining about is covered by the law and
whether you would be better off making your
complaint to another organisation such as an antidiscrimination
agency in your State or Territory. Commission staff can refer you to other agencies if
appropriate. Making a complaint is free.
Step 2: Lodging a written complaint
Complaints about discrimination
must be made in writing. If you
cannot write the complaint down
yourself for some reason, you can
ask a friend or someone who has
given you advice to do it for you.
You can also contact the Commission who
can organise someone to help you.
Step 3: Investigation
After you write to the Commission to make a complaint it
generally takes a couple of weeks for a complaints
officer to be allocated to look after your
complaint. Once your complaint has been
accepted, the Commission decides what investigation
needs to be done and usually writes to the person
you have complained about and asks for a
response to your complaint. This usually includes
sending this person a copy of your complaint so
they can respond to what you have said.
Step 4: Conciliation
After the Commission receives a response from the person
you have complained about they can decide to
conciliate the complaint. Conciliation means that
the Commission organises a meeting with you and the
person you have complained about and tries to
help you to resolve the complaint.
You do not need to get a lawyer or other advocate
to make a complaint although many people
will take a lawyer or someone like a union
representative with them to a conciliation
conference. It is up to the Commission conciliator to
decide who can attend a conciliation conference
so you will need to discuss it with that person
before hand.
Around one third of complaints are resolved at
conciliation. The kinds of things that can be agreed
to in conciliation are an apology from the person
you have complained about, an agreement that the
unlawful behaviour will stop, an agreement to give
you your job or former position back, an
agreement to provide payment for lost wages or
other financial compensation, or a commitment
from your employer to provide training about
workplace discrimination to all staff.
Once an agreement is reached, it is usually written
down and signed by you and the person you have
complained about. The Commission will close your file
after the complaint has been conciliated.
If you cannot come to an agreement at conciliation
your complaint will be terminated by the Commission.This is because the Commission is not a court and cannot
make a judgement on what should happen.
Step 5: Going to court
If your complaint is terminated by
the Commission you have 28 days to make an
application to have your case heard in
the Federal Court of Australia or the
Federal Magistrates Court. You would
probably need to discuss this with a
lawyer or legal service.