Get the Facts - Fact Sheet 2
Get the Facts - Know your rights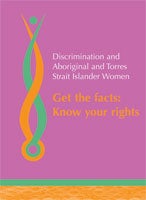 ---
Indigenous Women and Pregnancy Discrimination
FACT SHEET 2: Discrimination and Having a Baby
Pregnancy Discrimination
It is against the law in Australia for you to be
discriminated against because you are pregnant, you
might become pregnant, or you are breastfeeding your
baby.
Example: Julie works in her local supermarket.
When she tells her employer she is pregnant he
says that his customers don't like being served by
pregnant women and that he will have to let her
go. The law calls this direct discrimination.
Discrimination in the workplace can also be less
obvious. Indirect discrimination means a rule or
arrangement which appears to treat all employees fairly,
but in fact some people are less able to meet.
Example: Sally works as a security officer and
wearing a uniform is a part of her job. When her
employer finds out she is pregnant and is starting
to show, she is told that because she can no
longer fit into her uniform, she will have to take
leave for the rest of her pregnancy. The law calls
this indirect discrimination.

The law also tells employers they should at least
consider reasonable arrangements to help mothers
manage their family responsibilities at work. These
arrangements could include such things as flexible
hours or part time work.
If you are pregnant, may become pregnant, are on
maternity leave or returning from maternity leave or you
are breastfeeding your baby, your employer cannot:
refuse to employ you
transfer or demote you
change your part time position to full time or
the reverse
make you a casual if you are a permanent employee
reduce or increase your hours of work
change your days of work
give you work that is less, or more, skilled
or demanding
stop you having access to education or training
stop you getting a promotion or any other benefit
or opportunity that other employees have access to
terminate your employment (sack you) or
disadvantage you in any other way unless you ask
for or agree to the change.
Example: Jo returned from maternity leave to find
her employer had changed her job from one in
which she supervised other staff and had lots of
responsibility to a less important job. This may
amount to discrimination.
Sexual harassment can happen during pregnancy
Sexual harassment is against the law. Sexual harassment
includes things like unwelcome physical touching such
as pinching someone's bottom, staring and leering at a
person's body, requests for sex, sexual insults, questions
about someone's private life, displaying pornographic
material such as posters or magazines, sending sexual
jokes or pictures on email. Sexual harassment can
happen while you are pregnant.
Example: Betty works in a small community
organisation. When she announced she was
pregnant one of her co-workers kept commenting
about the size of her breasts and touching her
belly, even when she asked him to stop. Even
though he said he was her friend and was just
joking, this could be sexual harassment which is a
type of unlawful discrimination.
Anti-discrimination laws apply to all employees no
matter who your employer is, and whether or not you
are covered by an award or agreement in your
workplace.
This includes if you:
work for a small business or a privately owned
company such as a shop, restaurant, bank, hairdresser
or transport company
are employed under a Community Development
Employment Project (CDEP) scheme
work for a Government department or your local
Council or Shire
work for a childcare centre, school, TAFE or university
work for a hospital or nursing home or are employed
by an agency to do work like caring for older people
or people with a disability in their homes
work for a community organisation such as an
Aboriginal Medical Service or Land Council
are on a traineeship or are an apprentice
are employed on a farm.
CDEP schemes
The arrangements for CDEP schemes are currently
being changed. For advice about your entitlements as a
CDEP participant you should contact
the Department of Employment and Workplace
Relations CDEP Customer Service Line on
1800 805 260 or
your closest Indigenous Coordination Centre.
To be connected to your nearest ICC call
1800 079 098, except in the Nhulunbuy area
(call 1800 089 148), the Kalgoorlie area (call
1800 193 357), or the Kununurra area (call
1800 193 348).