Get the Facts - Fact Sheet 4
Get the Facts - Know your rights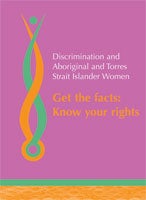 ---
Indigenous Women and Pregnancy Discrimination
FACT SHEET 4: Pregnancy and Casual and Temporary Employees
Sometimes it can be difficult to know if you are a casual
or permanent employee. Generally, casual employees
are employed on an hourly or daily basis with no
regular hours or rosters covering when they work. A
casual employee is not entitled to paid sick leave or
annual leave and has no guarantee of on-going
employment. A temporary employee is one who is
employed for a set period of time only. If you are not
sure if you are a casual, temporary or permanent
employee you should ask your employer or check your
employment agreement or letter of employment.
It is against the law for an employer to discriminate
against casual and temporary workers who are
pregnant, may fall pregnant or are breastfeeding. You
should not be treated any differently from any other
casual or temporary employee in your workplace,
unless you especially ask for changes to be made to
your working arrangements.
Generally casual, temporary or seasonal employees are
not eligible for parental leave, however if you have
worked on a regular basis for at least a year with the
same employer then you are likely to be eligible for up
to 12 months of unpaid parental leave. This means that
you have the right to return to your old job after your
parental leave.
Example: Judy had been working as a casual shop
assistant at a department store after school and on
weekends for two years when she found out she
was pregnant. Her employer told her that because
she was casual she would have to leave when she
had her baby. As Judy is a long term employee, it
is discriminatory for her employer to refuse her
further work because she is having a baby.
Even if you are not entitled to parental leave as a casual,
temporary or seasonal employee, it is still against the
law for your employer to discriminate against you
because you are pregnant, may fall pregnant, need time
off to have your baby or are breastfeeding. To find out if
you are eligible for parental leave as a casual you could
ask your employer, or contact your union, the Working
Women's Centre in your State or Territory or the
Australian Government Department of Employment
and Workplace Relations' WageLine information line
on 1300 363 264.
Example: Claire has been employed by her Shire
Council on a six month contract to carry out a
survey of local Aboriginal people. Her baby is due
around the same time her employment contract
runs out. Although Claire is not entitled to
maternity leave and will not be able to return to
the same position after her baby is born, the
Council can not sack her before the end of her
contract or discriminate against her in any other
way because of her pregnancy.