Get the Facts - Fact Sheet 5
Get the Facts - Know your rights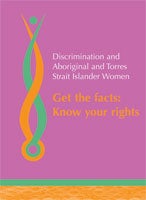 ---
Indigenous Women and Pregnancy Discrimination
FACT SHEET 5: Pregnancy Discrimination in Education
Pregnant students and young parents have the right
to an education in a safe and supportive environment,
free from harassment and discrimination. There are lots
of things your school can do to make it easier for you
to finish school if you are pregnant or have a child.
Mostly this will involve your school being supportive
and a bit flexible with things like assessment times,
uniforms, attendance, and allowing you to have contact
with your baby during the day to breastfeed.
There are also some schools in all States and Territories
which have a special focus on helping young mums to
stay at school. They have programs and teachers there
to help you deal with having a baby and being a young
parent. To find out more about these schools, contact
the Department of Education in your State or Territory.
Australian discrimination laws apply to educational
institutions including schools, universities and technical
colleges. In general, as a student (or a teacher) at a
public school, technical college or university you
cannot be discriminated against because you are
pregnant, may become pregnant or because you are
breastfeeding. That means that you cannot be expelled
or not allowed to enrol because of your pregnancy.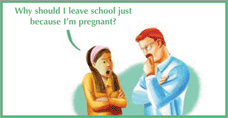 Trainees and apprentices are also covered by
anti-discrimination laws. If you are at TAFE and doing
an apprenticeship you may need to suspend your
apprenticeship while you take time out to have your
baby, but you can still return to it.
Example: Rebecca is in year 10 at high school
when she finds out she is pregnant. Her school
principal says that she will not be allowed to
come back to school after the holidays because it
would set a bad example to the other girls. This is
likely to be unlawful discrimination.