Get the Facts - Fact Sheet 7
Get the Facts - Know your rights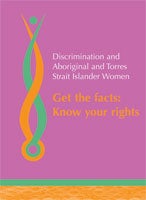 ---
Indigenous Women and Pregnancy Discrimination
FACT SHEET 7: Health and Safety for Pregnant Workers
Depending on the type of work you do, your employer
might need to make special arrangements for pregnant
employees. This can include simple things like
supplying special uniforms for pregnant women,
providing a chair to an employee who normally stands
up at work, and allowing more toilet breaks.
Depending on your job, it may also be important that
you do not lift very heavy weights, climb up high
ladders or carry firearms.
Laws about health and safety at work are there to make
sure that workplaces are safe for ALL workers, including
pregnant women. If there is a danger at your workplace
such as a slippery floor, it is a danger to everyone and
your employer has a legal responsibility to fix it.
There are a small number of workplaces which create
special dangers for pregnant women. These include
jobs where you work with toxic chemicals like lead or
mercury, use pesticides, herbicides or fertilizers, use
paint thinners, some cleaning chemicals or degreasers,
are exposed to infectious diseases or x-rays, or work
with sick animals. You can normally reduce these risks
by wearing proper protective clothes such as gloves,
masks, and overalls, and these should be the right size
to fit your pregnant shape.
If there is a genuine risk to your health and safety during
your pregnancy, your employer must consider
moving you temporarily to another safer job or work
area while you are pregnant, but this should not be a
job with less pay, status or career opportunity
changing your hours of work to avoid any risks or
offering you the choice to take paid or unpaid leave.
In general, the decision about what you can and can't
do at work during your pregnancy should be made by
you and your doctor, especially if you have health
problems. It is against the law for your employer to sack
you or move you to another job without your
agreement during your pregnancy. If you think your
workplace is unsafe for you while you are pregnant you
should get a medical certificate from your doctor saying
what you are able to do and give it to your employer.
Example: Sharon works as a lab assistant in a
university. Because she is required to handle
chemicals which could harm her baby, she
requests to be moved to another type of work
during her pregnancy. Sharon is moved to the
science faculty office on the same pay and
conditions for the duration of her pregnancy.