Mother - Us Taken-Away Kids: commemorating the 10th anniversary of the 'Bringing them home' report
Us Taken-Away Kids
Commemorating the 10th anniversary of the Bringing them home report
Mother
Women's
Lament , Kunyi McInerney, 1999

This painting is our Oodnadatta
History. The people on the top row are the police, Australian Inland Mission
nurse at the Oodnadatta clinic/ Hospital, the station manager, the United
Aboriginal Mission missionary, and the social worker. All these people are
responsible for removing the children from the families and their culture and
area.

The red sand is the sand hills shaped like a large a football oval
and in the centre is the clay pan where we used to have the school sports day.
The people told us when the wind gets inside this large oval it makes a wailing
noise and they say that noise is the families especially the mothers crying for
their children who were taken away. The mothers and grandmothers were so
frustrated and desperate that they would strip their clothes off and cut
themselves with sharp rocks, and fall down whaling for their children- some
never to be seen again. This large painting was used on the stage when the
Aboriginal and Torres Strait Islander Commissioner came to Adelaide.
I
spoke to my mother for the first time when I was 27 years old... The time was
11.37pm on Friday the 15th of September 1978. I had just arrived in Tennant
Creek from Sydney where I`d lived and worked for the previous twenty seven
years.
I pushed open the tired wrought iron gate of the house and
walked in darkness along the concrete path. As I did, the front door opened and
a young boy and girl ran out of the house yelling ``Dougie!``. Who the hell is
Dougie? My name is John! Did I just travel two thousand kilometres to the
wrong address?
Before I could turn around and walk back out the gate a
young woman was walking down the path towards me. She peeled the two young ones
off my arms and left leg and took my hand as she said, ``Mum`s been waiting
forever to see you``. My eyes followed the path in front of me to where I saw
the silhouette of a woman standing in the half light of the open door. Her
hands were clasped together in front of her body and she stood perfectly still.
Even in the darkness, I could see tears rolling down her chubby cheeks. She
held out her arms to embrace me and I walked into them. We held each other for
the longest time. I was home.
- John Williams Mozely
"I was adopted six weeks after I was born and believe I
was taken by undue pressure because even when my biological mother was passing
away she told my sister who was there that there were more and they were not the
only ones. She had little yellow tabs in her diary with Link-up phone numbers
all over them."

– Christopher Mason
"A young
woman who was having a relationship with a white man falls pregnant, he dumps
her and his offspring. She, poor girl has nothing and very little support from
anyone, parents are diabetics. She attends local hospital, baby due New
Year's Eve 1965. She is left for 3 days in labour, finally; baby delivered
by forceps, bruised black and blue, not breathing. After 20 minutes fed by
oxygen he came around. She did not have him for days, he was too
injured.
She asked about her baby and was told he was hopelessly crippled
plus cerebral damage. She took it, they spoke the truth. She then had a social
worker write and ask C.S.V. about her little son 28th March 1965. She was sent a
letter dated 22nd March 1965, that Paediatrician at R.C.H. had made him a State
Ward. At 10 months he was placed in foster care. The reports on this lady were
not very flattering, and on the baby's records it states: find parents for
this child.
He stayed in foster care until 21 months, when we came
along. We went to see him. My husband squatted down and called the little
boy's name. The child had not a thing to play with. All that was in the
yard was a pile of blue metal stone. Suddenly the child scooped up a handful of
these stones, went over to his soon to be chosen father and placed them in his
hand. He had nothing but these stones and he gave them, "I'll be
darned we said". With that he had a family."
– Ron and
Marie Cox, Jonathan Cox's adoptive parents
Sacred
Mothers

Both my Mothers were stolen
In a very profound way
First,
the Mother Land of my ancestors
Then, my own Mother that fateful day.
The
longing was always strong in my heart
Often caused me to flee,
"abscond"
I needed to be with the ways of my own
That is where
I belong.
The innate knowledge of my ancestors
The land, the loss and, the
chains
Could ne'er withhold the spirits strength
Of which, all my
life is aimed.
I broke through your incarcerations
The leg ties, barred
windows and doors
That 'Christian' cruelty and state
abuse
Wasn't our way; Shouldn't have been
yours.
"Wilful" against crown and state controls
Vowing my own
all true worth
Fought alongside the rest of us
Whilst you mongrels
perfected your worst.
So many were killed or broken
Yet still, many of us
survive
And, we rise the ways of our ancestors
We, the new generations
with pride
Claim our own return to this nation
Our heritage, our culture,
we stand
And, live within future generations return
Our Mother's spirits to this sacred land.

- Yveane Fallon

Picture: 'Rainbow Serpent' by Yveane Fallon
My natural mother
was the eldest of six brothers and sisters. She was also the fairest. Her name
was Mary Barbara Williams. [Like] so many other Aboriginal kids, her birth was
never registered. All that's known from archival records is that she was
born at Alice Springs on or about the 28th of December 1933. Her mother was
Ruby Foster and her father was Elias Jack Williams. Jack was a Western Arrernte
man and was raised at Hermannsburg, a former Lutheran Church Mission one hundred
and forty kilometres west of Alice Springs.
Hermannsburg Mission was
established in 1877 in the traditional land of the Western Arrernte. Over time,
Luritja and Pintubi people were brought into the Mission as the
"civilising" mission spread further and further into the Central
Desert area. Hermannsburg was handed back to its traditional owners and
custodians by the Church in 1982 and is now called by its Arrernte name, Ntaria.
Jack, as he was called, was the son of Johannes Ntjalka and Maria
Kngarra. While Jack claimed Mum as his daughter, he was not her natural father.
Her real father was apparently some white fella whose name is not mentioned by
the old people at Hermannsburg. This was the way things were! While her
brothers and sisters grew up with each other at Hermannsburg, my mother was
raised by a Northern Territory policeman at the old Heavy Tree Gap police
station in Alice Springs. His name was Bob Hamilton and although he was not my
mother's father, he 'grew her up' from when she was a toddler.
Bob was a white fella. I would have liked to have met him but he died in 1963,
long before I ever knew his name or who is was.
Notwithstanding the
fact he was a police officer, old Bob apparently couldn't stop the police
or Native Welfare Board from taking my mother. My mother was thirteen at the
time. The year was 1946... Unlike kids taken to the Bungalow, other Aboriginal
children from the Northern Territory who were placed in institutions such as
Garden Point on Croker Island, St Mary's Home in Alice Springs, or Groote
Eylandt Home had a more than even chance of remaining somewhere within the
Territory. This was the case with Mum's brothers and sisters who were
also taken away one by one and placed in various institutions in the Northern
Territory. When they were old enough and no longer under the control of the
Native Affairs Department, they all managed to return to Hermannsburg to live.
My mother's ultimate destination, unknown to her at the time, was
the Church Mission Society home at Mulgoa near Penrith New South Wales, more
than two thousand kilometres by rail from Alice Springs.
After two
years in the Church Mission Society home at Mulgoa my mother was deemed
sufficiently educated and trained to commence employment as a domestic servant.
It was apparently of little concern to the Church Mission Society or government
that she was functionally illiterate. She began work at fifteen with
Normanhurst Private Hospital in Ashfield. After working here and later, as a
domestic on a sheep station near Tamworth my mother sought permission to return
to the Northern Territory. After being told she didn't meet the minimum
educational requirements for the Air Force in Alice Springs Mum returned to live
in her Mother's county - Warramungu country – in Tennant Creek. Her
journey home had taken her nine years.
- John Williams Mozley
My story is about a mother and daughter both victims of those nasty
folk called the Aborigines Protection Board, (the APB). Lily- born 1910 and
her daughter Marjorie, born 1925.
 
Both were taken from the
community. Lily at the age of 14 commenced service to Mrs S. G. W in August,
1921. Lily was found 'un-suitable' and came back to the community in
1922. Three years later, the APB sent Lily to Mrs. A. J. C. In June, 1925 Lily
was sent home pregnant, where she gave birth to a baby girl she named
Marjorie. Her babe was taken by the APB and placed in the care of Aunty
Elizabeth, my grandmother, who raised Marjorie. Lily returned to Mrs C.,
falls pregnant again and so is returned to family for good in November
1928.
 
Marjorie was raised by Lily's Aunt Elizabeth until she
was eight, at which time the APB inspectors came and took child away to
Cootamundra Aborigines girls home. That was the last time Lily saw her daughter.
Later, Lily married had other children. Lily later died not knowing where
or what was happening to her daughter Marjorie.
 
Lily's
children searched for many years trying to find their lost sister, no luck
because APB records were not available to Aboriginal folk at the time. Then a
change came on the scene Marjorie who had married and raised her own family, was
finally found by her family after 70 years. A re-union was arranged by
her brother and sister, to take their sister back to Karuah
Reserve from where she had been taken from all those years ago.

The
sad part is that Lily had not known where her daughter was, but we have
discovered that the girl I knew as Marjorie was on
occasions travelling north by car with her daughters passing through
Purfleet Reserve to spend Christmas with her only son Ken at Port
Macquarie. Not knowing her Mum who was alive and lived on the Purfleet
Reserve at these times.
 
Like many other Aboriginal boys and girls,
we were used as slave labour. Now the government is offering me peanuts in
recognition of wages and child endowment owed to my mother, the cheek of
the government bureaucrats. There is no justice for Aborigines in this
country at present, hopefully such will come soon after such stories are told.

- Les Ridgeway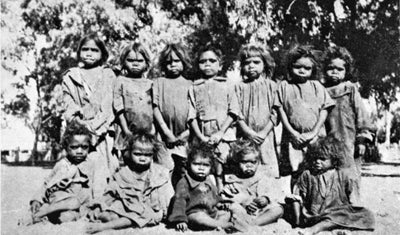 Photograph: 'A group of Aranda girls',
Photographs of Australian Aborigines, Australian Aborigines Friends'
Association, 1936.
To me they were surrogate mothers when I were growing
up; when I left school and began work they were more like really special
friends. The thing they stressed to us always was that you are as good as, if
not better than, everyone else. It is up to you. I grew up with a very, very
positive outlook on life because of that.

- Esther Bevan, interview
with Siobhan McHugh
The Shelter

Row upon row we cowered
Between
sheets threadbare but crisp
And brittle like sheets of white glass
Tucked
too tight by our own childish hands
Tiny fingers trained on chilly
mornings
In the art of "gaol corners" we were told
"This
is how you'll make your beds in prison'
Some of us not yet ten
years old
But we'd be making beds in gaol
It was not
inconceivable
And how was I to know then
That gaol would be an
improvement
On the sorry protection
Of Glebe Metropolitan Girls
Shelter

- Vickie Lee Roach
The Powers that be during my
incarceration in the Coventry Girls Home, told my sisters and I that we were no
longer to speak my father`s language, Bundjalung, and it was belted out of us
until we no longer spoke it. We were then told every day that out parents did
not want us- that's why you are here.
It was not until I was old
enough and left the home, that I was confronted with the truth and learned of
the government policies and practices that brought about the children being
removed.
- Elaine Turnbull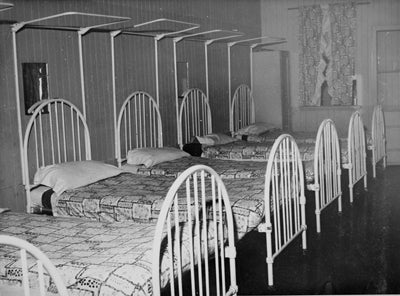 Photograph: Girls Dormitory, Cherbourg, 1959.
Photograph reproduced courtesy of the State Library of
Queensland.
The Warm Bed

I was taken by white man
When I was
six
Taken from our warm bed
And they left behind our sis

For the
bed was surely crowded
And the hut had a dirt floor
But the warmth and the
love there
We had no more.

With their crisp sheeted single beds
We
were told we were lucky as can be
To be brought up by white man,
And they
said we were free

Well the years passed by,
And for my family we
cried,
To be back in that warm bed
Oh, just for a while.

For the
white family gave us
What they long for
A good education, material
things
And we had it all, but,
No-one will know the pain,
Of the
longing for.

Well more years passed by
And now we still cry
For
our dad and mum
Had suffered until they died

Our big sister still
lives,
The one they left behind
To snatch her siblings from her
And her
pain will never die

Can't you see white man?
For the damage we
dread
We will never again
Be as one with our family
In that lovely warm
bed

- Suzanne Nelson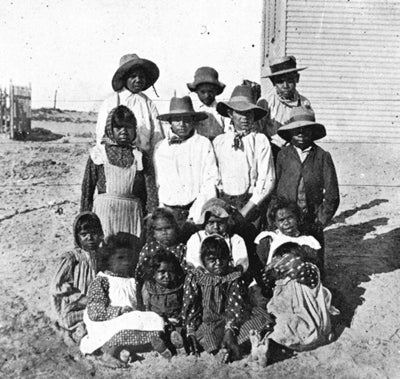 Photograph: 'The touch of civilisation',
Photographs of Australian Aborigines, Australian Aborigines Friends'
Association, 1936.
Photograph courtesy Ivan Copely

It just happened
that my mother came once to see me, but she was sad, I could understand,
she
was upset. After being taken as a small child and going to see her as an adult,
well, she said that I wasn't her daughter. You know, with all the hardship
and the loss of her child,
I suppose she felt it very bad that way, and she
never, never talked about it. She just looked at me and said,
'you're not my daughter'. It was a long time you know? I mean
taking a child away at a small age and then going back to see the mother, as an
adult well,
she would be shocked I suppose, thinking, oh you're not
my daughter. That was the
first and the last I've seen her.
She didn't even let the other old people [know that] she had
another daughter because it
hurt her. She was broken up inside. She never
mentioned she had another daughter.
It's just recently, when the
people say, "oh, it's your mum and all this and that",
they always say, "oh, she never said anything about it, she never told
us".
Well I said, because she was upset and she had a broken heart.
And that's how she went to her grave, with a broken heart.
- Phyllis Bin Barka, interview with Siobhan McHugh