Annual Report 2002-2003: Chapter 7
Human Rights and Equal Opportunity Commission: Annual Report 2002 - 2003
Chapter 7: Race Discrimination
---
Acting Race Discrimination Commissioner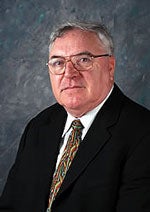 Dr William Jonas AM commenced duty as acting Race Discrimination Commissioner in September 1999 in addition to his duties as Aboriginal and Torres Strait Islander Social Justice Commissioner.
Statement from the Commissioner
As Race Discrimination Commissioner I have been very disturbed by two significant trends during the past year. The first is the widespread demonisation of Australian Arabs and Muslims. The second is the exclusion of Indigenous people, principally by means of local laws, from public spaces in many Australian cities and towns.
Demonisation of Australian Arabs and Muslims
Since 11 September 2001, Arabic and Islamic community organisations have reported increased levels of anti-Arab and anti-Muslim prejudice, discrimination and vilification. Community leaders have told us that the reported incidents are just a small part of what is happening. Fear and isolation have made many people reluctant to come forward and speak out or complain.
During our Isma – Listen: National consultations on eliminating prejudice against Arab and Muslim Australians, I have heard horrific stories of verbal threats and physical violence, often targeting girls and women in public places. The alacrity with which some in the community have vented their aggression and racism on Arab and Muslim Australians is alarming.
I think there is no doubt that after September 11 there has been a rise in terms of the perception that you are a danger. From a woman's perspective, if you wear the veil then you are seen as a fundamentalist – you are a danger. (Meeting with Muslim Lawyers Group, Melbourne, 27 May 2003)
Of particular concern is the language in which Australian political leaders and the media discuss and describe Muslims and Arabs both within Australia and overseas. For example, asylum seekers have been labelled 'illegals' and portrayed as manipulative, inhuman and uncaring.
The description of 'terrorists' is almost always linked with the religion 'Muslim', as if Islam is a cause of terrorism. Such language is readily interpreted as encouraging aggression and racism against Australian Arabs and Muslims. It amounts to the demonisation of a significant community of Australians, putting them at greatly increased risk of discrimination, harassment and even violence.
This analysis has frequently been outlined in presentations at Isma consultations.
Where does the discrimination come from except first and foremost from the government, politicians and other departments? They are racist and their policies are discriminatory. Others will of course be the same as they are led by example. Whatever the government says, the people say and it goes on… [Meeting with Iraqi refugees, rural Victoria, 30 May 2003]

The government projects fear and there is a lack of understanding. It is not projecting an image of acceptance and inclusiveness. This reinforces negative difference and otherness. (Islamic Council of NSW meeting, Sydney, 10 June 2003)
At the Hobart consultation participants complained that the media too often do not take the time to find the 'facts'. Media report only the negative aspects of Africa, for example, instead of informing people that Africans coming to Tasmania come from many different ethnic groups, languages and cultures.
In Victoria, participants were also critical of the Australian media and felt that it unfairly links Islam with terrorism blaming all Muslims for the events of 11 September 2001. One participant refused to accept such blame.
It's as if all Muslims should pay the price for someone else's actions. I'm not prepared to pay the price of anyone else's actions, especially someone whose actions we don't agree with . . . Islam is peace. Islam has nothing to do with terrorism and never will . . . (Meeting with Iraqi refugees, rural Victoria, 30 May 2003)
One aim of our Isma project is to recommend strategies to reduce the demonisation of Australian Arabs and Muslims by increasing positive public awareness about them, their cultures and their religions, by improving official responses to discrimination and by enhancing the appreciation among all Australians of the very positive benefits of cultural diversity.
Exclusion of Indigenous Australians from public spaces
During the year the trend has continued of State and local governments resurrecting old policies of segregating and excluding Aboriginal people from public places. These laws and policies in theory apply to everyone, but in practice target Aboriginal people.
In Adelaide, the state Government, at the request of the City Council, extended a dry area trial for a second 12-month period despite the fact that, in the first 12 months, the support services required by the state Government itself had not been provided. The purpose of establishing the dry area was to prevent people drinking outdoors in city squares, predominantly Aboriginal people.
I advised Adelaide's Mayor that a substantially disproportionate impact on Indigenous people would only be tolerated under the federal Racial Discrimination Act 1975 if the dry area declaration was reasonable. In deciding what is reasonable, community amenity and safety are relevant factors as is the aim of reducing substance abuse by Indigenous people. At the same time, it is also relevant to ask whether Indigenous people's enjoyment of their culture and traditions is affected; whether the effect of moving them away from the central city area is that they have substantially less access to welfare and support services, and; whether their reduced "visibility" also makes them more vulnerable to assaults and less accessible to protective services such as the police.
In Perth, the state Government introduced a night-time curfew for children and young people in the restaurant and nightclub district of Northbridge. Unaccompanied children aged 12 and younger must be out of Northbridge by dark, while 13–15 year olds must be off the streets by 10pm. At least 80 percent of young people removed from Northbridge by police under the curfew have been Aboriginal.
In NSW, Moree, Coonamble, Orange and Ballina have all introduced child at risk removal powers under the Children (Protection and Parental Responsibility) Act 1997 (NSW). The children (15 years and younger) being removed from public places are predominantly Aboriginal, and in Moree and Coonamble almost exclusively so.
Curfews can violate the rights of children and young people to equality of access to public space and to freedom of association. Enforcement of curfews imposes on children and young people all the risks associated with contact with police (including the risk of provoked offences such as offensive language) and with police custody (including the risk of self-harm).
In Darwin, the City Council by-law prohibiting outdoor camping and sleeping is said principally to affect Aboriginal people – those who sleep outdoors for cultural reasons and those who do so because they are homeless.
In Townsville, the City Council has hired a private security firm to enforce a by-law prohibiting the possession or consumption of alcohol in the city's parks by putting together a photographic dossier of park-users and confiscating any alcohol found. Once again, most of those affected are Aboriginal people, many of them homeless or without accommodation in the city. Further, the City Council has applied to have all public streets and parks declared as move-on areas under the Police Powers and Responsibilities Act 2000 (Qld). If approved, police would be empowered to order a person to move on and stay away for up to 24 hours if, for example, he or she is "causing anxiety" to another person by being in a public place.
Exclusionary laws such as these are a return to the old segregation days. They are based on paternalistic notions about the relationship between government and Indigenous people and attempt to impose assimilation as a pre-condition to their acceptance as full members of society. They come close to violating the citizenship rights of Aboriginal people. They also ignore the history of Aboriginal exclusion and disadvantage. They impact on the poorest, most isolated and most disadvantaged. Aboriginal people are grossly over-represented among those afflicted by ill-health (including alcohol addiction), poor living conditions and homelessness. It is frankly disingenuous to claim that such laws target behaviour pure and simple, without any racial component.
It is essential to evaluate these exclusionary trends in light of recent history as well. The key recommendations of the Royal Commission into Aboriginal Deaths in Custody aimed to reduce Indigenous people's contact with police and their rates of incarceration. Giving police more powers to approach, remove and detain Aboriginal people runs directly counter to those recommendations.
These two significant issues will continue to be a focus of my activities in the coming year.

Cyber-racism
The internet has emerged as a significant forum for the dissemination of ideas based on racial superiority and hatred. The Commission's cyber-racism project aimed to raise awareness of this potential of the internet, evaluate existing legal avenues for challenging racist sites and develop partnerships with industry, government and community stakeholders. Through these methods, the project aims to improve the regulation of the internet so it is consistent with community standards which balance the right to freedom of expression with the right to freedom from incitement to racial hatred and violence, and from offensive speech based on race.
Several international and Australian developments form the backdrop to the Commission's work in this area. The Programme of Action adopted by the World Conference Against Racism in 2001 proposed several strategies to combat the proliferation of racism on the internet and the Council of Europe's additional protocol on racism and xenophobia on the internet as an extension to its Convention on Cybercrime (2001, not yet in force).
In Australia in September 2002, the Federal Court found for the first time that an Australian website that denied the Holocaust and vilified Jewish people was unlawful under the provisions of the Racial Discrimination Act 1975 dealing with offensive behaviour based on race (Jones v Toben [2002] FCA 1150).
The Commissioner convened a symposium on cyber-racism in Sydney on 22 October 2002 to share information on emerging technological innovations, to evaluate the potential of legal regulation and to discuss ways to improve the effectiveness of both regulatory and emerging non-regulatory mechanisms. Before an invited audience, an expert panel made up of representatives from industry, government, non-government and legal organisations was facilitated by Dr Gregory Tillett.
Professor Henrik Kaspersen, Director of the Computer Law Institute at the University of Amsterdam, also joined the panel. Professor Kaspersen had chaired the drafting committee for the Council of Europe's Additional Protocol on Racism and Xenophobia on the Internet and outlined the provisions of the protocol in his keynote address.
The background paper prepared for the symposium was illustrated with examples of racist content published in Australia on Australian-based websites as well as computer games and music available on or through the internet. This paper is available online at www.humanrights.gov.au/racial_discrimination/cyberracism
/report.html.
The paper also outlined existing regulatory mechanisms, including the Racial Discrimination Act, state and territory racial vilification legislation and the Broadcasting Services Act.
The symposium identified several issues requiring further analysis and a range of policy options being evaluated by the Commission. More significantly, it sparked a considerable degree of interest among industry and government stakeholders best placed to regulate and limit cyber-racism. The Commission looks forward to supporting future initiatives as they are developed by these stakeholders.
The cyber-racism project is detailed on the Commission's website at: www.humanrights.gov.au/racial_discrimination/cyberracism/.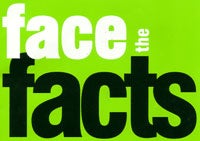 Face the Facts
Face the Facts was first published in 1997 at a time of heated debate over race issues in Australia. Recent events including escalating politicisation of Australia's response to refugees and asylum seekers, increased anti-Arab and anti-Muslim prejudice after 11 September 2001, the stalled Aboriginal reconciliation process and the rejection of native title applications by the courts have all fanned the flames of this debate. Race and racism remain burning issues in Australian society. The 2003 edition of Face the Facts aims to reduce unfounded prejudices in public debates about 'race' by addressing prevailing myths about refugees and asylum seekers, migrants and Indigenous people with factual information in readily-accessible formats.
Unique to the 2003 edition is an expanded on-line version. This on-line version is a multi-layered resource designed specifically for use by teachers and students. Embedded links and drop down menus enable users to access a wealth of detailed statistical information and further reading sources to explore specific topics in significantly greater depth. To assist teachers to navigate this information, the Commission has developed a teaching resource module to demonstrate ways of using Face the Facts in the classroom to progress key learning outcomes. The activities link with a range of key learning areas for secondary school students across all states and territories. Teaching notes, student activities and worksheets are provided, as well as a range of additional on-line resources and further reading.
Face the Facts is published on the Commission's website at: https://humanrights.gov.au/our-work/race-discrimination
Kalgoorlie community relations strategy
A joint visit to Kalgoorlie in May 2002 by the Commission and the West Australian Equal Opportunity Commission in response to allegations of racism made two principal findings.
1. There is a significant lack of accurate information in the community on relevant matters, in particular about legal rights and obligations, other cultures, especially Indigenous culture and history, and about the roles and responsibilities of relevant agencies.

2. Community leaders are not consulting as fully and effectively as they should with Indigenous people on issues and decisions which materially affect them and their well-being.
The Commissioner visited the city in July 2002 to deliver and discuss his recommendations, which were:
1. Indigenous capacity-building – That the WA Equal Opportunity Commission and this Commission jointly develop and deliver human rights training to Indigenous people in key positions to enhance their knowledge of their rights and anti-discrimination legislation and to equip them to create and implement effective strategies to combat racism, racial discrimination and racial vilification which is contrary to law.

2. Anti-racism training – That the WA Equal Opportunity Commission and this Commission jointly develop and deliver anti-racism and diversity training for key government and business sectors which come into contact with Indigenous people as employees, clients or customers.

3. Consultation – That an experienced mediator or facilitator be engaged by the WA Department for Indigenous Affairs in collaboration with ATSIC and the City of Kalgoorlie-Boulder to assist in the development of an agreed protocol on how government agencies and others are to consult with local Indigenous people on issues affecting them.
The strategy was well-received by both Indigenous and government stakeholders and a strong commitment was made on the part of the Department of Indigenous Affairs, the City of Kalgoorlie-Boulder, the then Wongatha Regional Council of ATSIC and others to participate actively in its implementation.
In November 2002, the WA Equal Opportunity Commission provided a week's intensive training to seven Indigenous people who became Ngali-Ba Wangka ('we all talking') advocates for equal opportunity and social justice. This training was funded by this Commission. Their roles include providing appropriate referrals under state and federal anti-discrimination law, discussing options for dealing with allegations of discrimination, assisting concerned individuals to make contact with the Equal Opportunity Commission and, in appropriate cases, assisting in complaint preparation.
In December 2002, the advocates assisted the WA Commission, again with funding from this Commission, to deliver human rights training in two separate workshops to some 27 Indigenous people from a range of agencies and departments working in the city. One aim of this training was to equip participants with basic information on human rights to enable them to contribute effectively and confidently to the proposed negotiations for an Indigenous consultation protocol.
In March 2003, the WA Department of Indigenous Affairs announced the appointment of two mediators, Tim Muirhead and Kim Bridge, to assist in the development of the proposed consultation protocol. This project is due for completion in September 2003. The Commission is awaiting the outcome of this project before proceeding with the proposed anti-racism training element of its strategy.
The WA Department of Indigenous Affairs and the Commission have engaged a research team led by Associate Professor Mark Rapley from the Centre for Social and Community Research at Murdoch University in Perth to evaluate the extent to which the strategy achieves its objectives. The evaluation report will inform other cities and towns about the strategy with a view to its replication, with modifications as appropriate. The Commission is aware of many other locations in regional Australia where similar conditions exist.

Erace forum
The Commissioner's Erace forum is an internet forum for publishing Commission research on race discrimination issues and raising policy questions for public comment. It contains a bulletin board to which comments, arguments and analysis submitted by email are posted. Visit the Erace forum online at www.humanrights.gov.au/racial_discrimination/Erace/.
The Erace forum was launched on 14 October 2002 with two papers on temporary protection visas. The first paper described the operation of these visas in comparison with permanent visas and the second was a legal evaluation of the consistency of temporary visas with the federal Racial Discrimination Act and the International Convention on the Elimination of All Forms of Racial Discrimination on which the Act is based.
The Commissioner introduced these papers with the comment:
Today, over 8,000 refugees in Australia hold temporary protection visas. They have no right to access many of the settlement supports available to other refugees in Australia and they cannot apply to bring family members to Australia. These restrictions impact on the long-term settlement prospects of these refugees, most of whom are from Iraq and Afghanistan.
The second topic, published on 5 February 2003, explored the interpretation of the term 'ethnic origin' (one of the grounds covered by the Racial Discrimination Act), and posed the question whether Muslims could constitute an ethnic group in a way similar to Jews and Sikhs. As the law is currently interpreted, Muslims are defined by their common religion but not a common ethnic origin. It should be noted, however, that the issue has yet to come before an Australian court for a definitive ruling. The failure of federal law to make discrimination on the ground of religion unlawful in all areas of public life has also been highlighted by the Isma project detailed below.
Alcohol restrictions
The Commissioner continues to support Indigenous communities wishing to regulate access to alcohol by community members in the interests of community well-being and individual health and safety. Several isolated communities have negotiated agreements with local liquor licensees to restrict alcohol availability, in some cases imposing a total ban on the sale of alcohol to community members and their visitors.
The Commissioner supports these agreements by issuing 'special measures exemption certificates', expressing his opinion that compliance with such agreements will not violate the Racial Discrimination Act because they amount to special measures taken for the sole purpose of securing adequate advancement for the communities affected in order to ensure their equal enjoyment and exercise of human rights and fundamental freedoms.
In 2002–03, the Commissioner issued a certificate in support of alcohol restrictions agreed between the Irrungadji Aboriginal Community at Nullagine, WA, and the licensee of the sole hotel in that town, which was endorsed by the WA Director of Liquor Licensing. He also issued a certificate in support of alcohol restrictions applicable in the WA town of Wiluna.
In April 2002, the Queensland Government announced several proposals to address alcohol-related violence in Indigenous communities in that state including:
1. Transferring liquor licenses from elected community councils to Community Canteen Management Boards appointed by the government;

2. Imposing strict conditions on hotels and roadhouses near Indigenous communities;

3. Strengthening and expanding Community Justice Groups to give them, for the first time, legislative backing and protection;

4. Creating economic development and employment opportunities in Indigenous communities.
These reforms responded to two significant reports undertaken in Queensland: The Cape York Justice Study and the Women's Task Force on Violence.
The Commission undertook a preliminary evaluation of the consistency of these reforms with the Racial Discrimination Act and is monitoring their implementation.
Isma – Listen: National consultations on eliminating prejudice against Arab and Muslim Australians
During 2002 the Commission continued to liaise with representatives of the Arabic and Muslim communities in Sydney and Melbourne to provide support and assistance to them in monitoring and addressing Islamophobia and anti-Arab prejudice which had escalated in the weeks following 11 September 2001. The Commissioner initiated national consultations in March 2003 to explore in more detail the experiences of these communities, their responses to government and other strategies to reduce prejudice and their views on what additional or improved strategies are needed.
With the assistance of an Arabic-speaking community liaison officer, the Commission convened or attended more than 40 consultations in Alice Springs, Brisbane, Canberra, Melbourne, Perth, Adelaide, Sydney and two locations in rural Victoria to the end of June 2003. The consultations have included small meetings with members of professional organisations, meetings specifically for young people, women or refugees and large public meetings. In addition, many meetings have been held with federal, state and territory government officers responsible for anti-racism and related strategies and programs.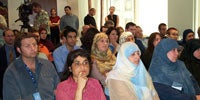 Community and media members at the launch of Isma – Listen: National consultations on eliminating prejudice against Arab and Muslim Australians, March 2003.
Empirical research on experiences of racial or religious discrimination, vilification, abuse or violence and experiences of formally reporting such incidents has been commissioned from a research team led by Associate Professor Scott Poynting at the Centre for Cultural Research, University of Western Sydney.
The Commission has also mapped strategies and programs implemented federally, and in all states and territories, in response to increased prejudice after 11 September 2001, with the objectives of making cross-jurisdiction comparisons and identifying gaps and shortfalls.
The Isma consultations have been strongly supported by state and territory equal opportunity agencies, government multicultural affairs advisory and other departments and agencies, non-government support organisations such as those working with refugees and torture victims, as well as numerous Muslim and Arab community organisations, many of them with very limited resources.
A summary of the consultations will be published early in 2004. The Commissioner will present his recommendations as well as outlining strategies to be pursued by the Commission.
The Isma project together with names of the reference group members is detailed on the Commission's website at: www.humanrights.gov.au/racial_discrimination/isma/.
Race relations in Townsville, Queensland
The Queensland Anti-Discrimination Commissioner, Susan Booth, drew the Commission's attention to concerns about race relations in Townsville in early April 2003. She reported a high degree of racial intolerance against Indigenous people and specifically public drinkers, punitive policies and practices by the City Council and allegations that local laws (ie by-laws) about public drinking and possession of alcohol in public places were being discriminatorily implemented and enforced.
Commissioners Booth and Jonas made a joint visit to Townsville on 17 June 2003 and met with Indigenous and City Council representatives. They issued a joint media release at the conclusion of their visit in which Commissioner Jonas stated:
It seems the treatment of Indigenous people who live in public spaces around the city and local government efforts to exclude them from these areas, have given a licence to some people in the community to harass, threaten and even assault them.

The fact is all Indigenous people in Townsville are put at risk by this prevailing attitude, which is very worrying.
Commissioners Booth and Jonas continue to monitor the situation in Townsville.
Adelaide dry area trial extended
Late in September 2002 Commissioner Jonas was alerted to Adelaide City Council's plans to apply for the dry area trial, covering the entire central city, to be extended for another 12 months to enable promised services for Indigenous and other public drinkers to be established and a full evaluation of the trial to be conducted. The Commissioner took the view that the detrimental impacts on Indigenous people would be serious and that the dry area was potentially in breach of the federal prohibition of indirect race discrimination. He argued that the trial should be postponed until the services intended to mitigate its impacts are in place. Regrettably, Council went ahead with the application and State Cabinet gave approval for the trial to be extended for a further 12 months.
A selection of public addresses made by the acting Race Discrimination Commissioner during 2002–03 are listed below and are available online at https://humanrights.gov.au/about/news/speeches/speeches-racial-discrimination-issues
Challenges for national human rights institutions: human rights education, media and racism, Asia Pacific Forum of National Human Rights Institutions regional workshop on National Human Rights Institutions, Human Rights Education, Media and Racism, Sydney, 15 July 2002.
Racial vilification and the limits of free expression, Asia Pacific Forum of National Human Rights Institutions regional workshop on National Human Rights Institutions, Human Rights Education, Media and Racism, Sydney, 15 July 2002.
Toward an anti-racism strategy for Western Australia – Insights from the national perspective, meeting of the Anti-Racism Strategy Steering Committee, Perth, 12 August 2002.
Racism and the fourth estate: free speech at what cost?, public forum organised by the WA Office of Multicultural Interests, Perth, 12 August 2002.
A multicultural cocktail! Is Australia on the rocks?, Newcastle and Hunter Region Ethnic Communities Council public forum, Newcastle, 29 September 2002.
Anti-racism strategies – a national framework for crisis interventions?, Anti-racism strategies information share forum, Sydney, 10 October 2002.
Race in cyberspace, Cyber-racism Symposium, Sydney, 22 October 2002.
Race in cyberspace, Cyberspace Law and Policy Centre seminar on International Dimensions of Internet and e-Commerce Regulation, Sydney, 24 October 2002.
Geography and human rights, Institute of Australian Geographers conference on Geography's New Frontiers, Sydney, 21 March 2003.
Launch of Isma: Listen – national consultations on eliminating prejudice against Arab and Muslim Australians, HREOC, Sydney, 21 March 2003.
Isma: Listen – national consultations on eliminating prejudice against Arab and Muslim Australians, Victorian Equal Opportunity Commission, Melbourne, 30 April 2003.
Isma: Listen – national consultations on eliminating prejudice against Arab and Muslim Australians, Anti-Discrimination Commission Queensland, Brisbane, 16 June 2003.