Get the Facts - Fact Sheet 8
Get the Facts - Know your rights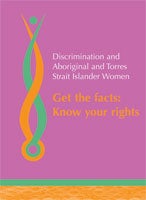 ---
Indigenous Women and Pregnancy Discrimination
FACT SHEET 8: Maternity and Parental Leave
Parental leave allows mothers and fathers to be able to take time off work to care for their new baby. This includes adopted babies. Parental leave includes maternity leave (for mothers), paternity leave (for fathers) and adoption leave (for either parent).
Unpaid parental leave is available to all full time and part time workers who have worked for at least 12 months for the same employer. Many regular casuals are also able to take parental leave. It is available to you whether you are married, single, living in a defacto relationship, and no matter how old you are. 1
It is important to check your industrial award or agreement to determine the amount of unpaid parental leave you can take and to see if you are able to take any paid maternity leave. Your State or Territory may also have laws about maternity leave.
Awards and agreements are legally binding documents which set out the entitlements and conditions of your employment such as how much you are paid, what hours you work and what holidays and other leave you are allowed to take. Workplaces are required to make a copy of your award or agreement available to all employees.
If you are not sure about whether you are covered by an award or agreement in your workplace you can ask your employer, contact your union or the Australian Government Department of Employment and Workplace Relations' WageLine information line on 1300 363 264.
Recent changes to workplace relations laws mean that more people are likely to be employed under an Australian Workplace Agreement (AWA). An AWA is an individual written agreement between an employee and employer and must contain a provision about unlawful employment discrimination. For advice and information about AWAs contact the Office of the Employment Advocate on 1300 366 632.
The arrangements for CDEP schemes are currently being changed. For advice about your entitlements as a CDEP participant you should contact
the Department of Employment and Workplace Relations CDEP Customer Service Line on 1800 805 260 or
your closest Indigenous Coordination Centre. To be connected to your nearest ICC call 1800 079 098, except in the Nhulunbuy area (call 1800 089 148), the Kalgoorlie area (call 1800 193 357), or the Kununurra area (call 1800 193 348).
At the very least, mothers in Australia who have worked for the same employer for at least one year and have an expectation of on-going employment are entitled to 12 months unpaid parental leave. This can be shared with your husband or partner if you have one. Generally you can take a week off together when the baby is first born, but after that it is likely you will only be able to take leave at different times. Some awards allow parents to take eight weeks off at the same time.
Some workers are also able to request to take more than 12 months of unpaid parental leave and/or to return to work part time following parental leave. You should check your award or agreement to see if you are eligible. In many cases, your employer will have a duty not to unreasonably refuse such a request.
One of the most important things about unpaid parental or maternity leave is that it allows you to return to your job after the leave.
If you are a teacher, work in a hospital or work for a government department or council you are likely to be entitled to paid maternity leave. Some community organisations also offer paid maternity
leave.
If you are entitled to parental or maternity leave it is against the law for your employer to sack you because you are planning to take that leave, you are on that leave or you have returned from that leave. It is your right to return to the job that you held before you went on leave and if that no longer exists, to a job that is as near as possible to the same in pay and status.
Often, Indigenous women need to return to their home for the birth of their children, which can take some time if you come from a rural or remote community. This can be especially important for women with strong ties to traditional culture. A mother can usually start maternity leave at any time she needs before the birth of her baby, provided she gives her employer notice that she intends to take maternity leave. If your employer refuses to allow you to take reasonable leave to fulfil your cultural obligations to travel home to have your baby it may amount to discrimination on the basis of race.
Applying for maternity leave
Normally you should give your employer at least 10 weeks notice that you intend to take maternity leave. Four weeks before you plan to start your leave (or your baby is due) you should apply in writing for leave, giving notice of when you would like to start and end your leave and providing your employer with any documents he or she requires. This might include a medical certificate from your doctor or midwife saying when your baby is due or a statutory declaration stating how much leave your partner is planning to take. If your baby arrives early it doesn't matter because you have told your employer when he or she was due.
If you are entitled to annual leave or long service leave, you can also take it, instead of, or as well as, unpaid maternity leave, but, all the leave together must not add up to more than 52 weeks. In many jobs you cannot take, for example, a combination of 52 weeks maternity leave plus four weeks annual leave - you can only take 48 weeks maternity leave plus four weeks annual leave. But again, check your award or agreement to make sure there are not better arrangements in your workplace.
You can extend the amount of leave you plan to take only once. You do this by giving your employer at least 14 days written notice of how much more leave you are planning to take. If your employer agrees you may be able to extend the time again. You can also shorten the time of your maternity leave and come back sooner than you planned by writing to your employer giving them 14 days notice of when you are planning to return.
What happens if I have a miscarriage or my baby dies
If you have a miscarriage or your baby dies before youhad started maternity leave, your maternity leave will usually be cancelled. If you have paid sick leave you are able to take that. If you have a miscarriage within 28 weeks of the expected date of birth you can take special maternity leave. This leave is unpaid and you will need to provide a medical certificate stating how long you will be unfit for work.
If you have already started maternity leave and your baby dies or is stillborn, you can normally stay on
maternity leave until your leave would have finished or you feel well enough to return to work. You are also able to write to your employer and tell them that you would like to return to work sooner. In that case your employer must tell you a date within the next month when you can start back at work.
---
[1] If you are in a same-sex relationship and you are the non-biological parent of a child, you are not guaranteed access to parental leave. You may have access to parental leave under your workplace award or agreement. If you are in a same-sex couple you should check your award or agreement or seek clarification from your employer or union.
Same Sex: Same Entitlements, see https://humanrights.gov.au/our-work/lgbti
Note: The above footnote is not in the PDF version.