25th Anniversary of the Sex Discrimination Act (Cth) 1984
25th Anniversary of the
Sex Discrimination Act (Cth) 1984
The Sex Discrimination Act (SDA) makes it clear that to live and work in an environment free of sex discrimination and sexual harassment is a human right - not a privilege.
The SDA is federal legislation, which makes sex discrimination against the law. The SDA gives effect to some of Australia's obligations under the Convention on the Elimination of All Forms of Discrimination against Women (CEDAW) and parts of the International Labour Organisation Convention 156. The major objectives of the SDA are to:
promote equality between men and women;
eliminate discrimination on the basis of sex, marital status or pregnancy or potential pregnancy at work, in educational institutions, in the provision of goods and services, in the provision of accommodation and the administration of federal programs, and dismissal from work because of family responsibilities; and
eliminate sexual harassment at work, in educational institutions, in the provision of goods and services, in the provision of accommodation and the administration of federal programs.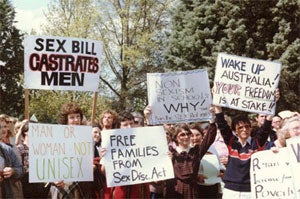 In practical terms this means that in Australia it is against the law to discriminate on the basis of sex, marital status, pregnancy or potential pregnancy in many areas of public life. The SDA also prohibits sexual harassment and dismissal from employment on the basis of family responsibilities. Victimisation associated with any of these grounds is also prohibited.
This year marks 25 years since the Act was passed.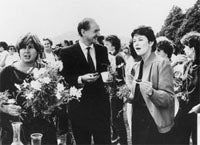 Photos: Courtesy of Women's Electoral Lobby (WEL) History project / Photographer: Christine Fernon.
---
Short timeline of the Sex Discrimination Act
For an accessible version of the timeline, click here

---
Tell us your experiences of gender equality or inequality over the last 25 years
Show us your experiences!
Do you have any relevant photos we can use for the anniversary?
Please email them to: webfeedback@humanrights.gov.au
---
Gender Equality Stats
Gender equality – the international perspective
Women represent 50.3% of the Australian population.
Australia is ranked 17 in the Global Gender Gap Index.
Australia is one of a group of countries ranked number 1 for women's educational attainment.
Australia is ranked 41 for women's participation in the workforce.
Women in parliament
Following the most recent Federal Election in 2007, women represent 29.6% of elected positions in the Australian Commonwealth Parliament. Women account for 35.5% of Australian Senators and 26.7% of the Members of the House of Representatives.
Australia is ranked 28 in the world for women's representation in Parliament.
Women in leadership
Women chair only 2% of ASX200 companies (four Boards); hold only 8.3% of Board Directorships; hold only four Chief Executive Officer positions (2% of ASX200 companies) and represent only 10.7% of Executive Management positions.
Women comprise 33 per cent of the total membership of Australian Government boards and bodies.
Over the last 50 years only 11 women have been named Australian of the Year.
Domestic and family violence
One in three Australian women is affected by domestic and family violence.
Domestic violence has been identified as the leading contributor to preventable death, disability and illness in women aged 15 to 44 in the state of Victoria.
Women are the biggest group of people using homelessness support services.
Domestic violence is the primary reason women seek assistance from homelessness support services.
Sexual assault
Nearly 1 in 5 Australian women has experienced sexual violence since the age of 15, compared to 1 in 20 men.
Women who have been exposed to violence have a greater risk of developing a range of health problems, including stress, anxiety, depression, pain, phobias and medical symptoms.
Internationally, around 1 in 3 women have experienced sexual violence in their lifetime.
Women's participation in the workforce
Women account for 45.1% of the total work force in Australia.
58.9% of women participate in the workforce compared with 72.1% of men.
Pay equity
Women in Australia currently earn 84.3 cents in the male dollar (full time adult ordinary time earnings).
The gender pay gap is even greater when we factor in women's part time earnings – overall women earn only 66 per cent of what men earn.
The gender pay gap has widened slightly over the last three years.
Sexual harassment
Nearly 1 in 5 complaints received by the Australian Human Rights Commission under the SDA relate to sexual harassment. The vast majority of these take place in the workplace.
22% of women and 5% of men have experienced sexual harassment. Women are four times as likely to experience sexual harassment in the workplace compared to men.
More than one in ten Australians has witnessed sexual harassment in the workplace in the last five years.
Only 16% of those who have been sexually harassed in the last five years in the workplace formally reported or made a complaint.
Retirement savings
In 2007, 2.8 million women and 1.6 million men aged 15 years and over reported not being covered by superannuation
Half of all women aged between 45 and 59 have $8 000 or less in superannuation.
Current superannuation payouts for women are one third of men's – 37K compared with 110K.
---
Sex Discrimination Act Silver Anniversary
Australian National University Conference, 1-2 October 2009
Organiser: Prof Margaret Thornton
This conference celebrated the 25th anniversary of the Sex Discrimination Act 1984. In addition, it took stock of the Act in light of recommendations for change made by the Senate Standing Committee on Legal and Constitutional Affairs in 2008. It also considered the future of the SDA in light of other significant proposals mooted at the federal level, namely, an Equality Act and a Charter of Human Rights.
Conference sessions were held on Thursday 1 October, with 'The Rocky Passage of the SDA', a dramaturgical performance, followed by the conference opening and reception in Kings Hall. Conference sessions were held on Friday 2 October at the National Museum of Australia.
Speakers included: Federal Sex Discrimination Commissioner and Commissioner responsible for Age Discrimination Liz Broderick and The Honourable Susan Ryan AO.
Program and further information:
http://law.anu.edu.au/coast/events/Sex_Discrim/conference.htm