Striking the Balance - Women, men, work and family
Striking the Balance - Women, men, work and family
Discussion Paper 2005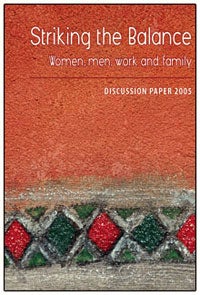 As part of the project examining family responsibilities and paid work, the Commission released a discussion paper in June 2005.
Striking the Balance: Women, men, work and family sets out the key demographic changes facing Australian society. It also looks at the questions facing individuals, families, employers and governments.
The Commission received over 180 submissions in response to the discussion paper.
Download Striking the Balance