Age and Disability Discrimination Commissioner The Hon Susan Ryan AO
The Hon Susan Ryan AO 
Former Commissioner, 2011-2016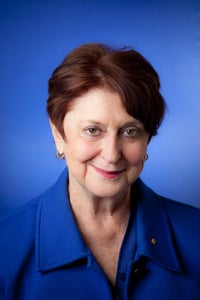 Susan Ryan was appointed as Australia's first Age Discrimination Commissioner on 30 July 2011 for a five year term. Susan Ryan was also the Disability Discrimination Commissioner, from 12 July 2014.
Up until her appointment as Commissioner, she had been Women's Ambassador for ActionAid Australia and chaired the Australian Human Rights Group since 2008. She had also chaired the Australian Human Rights Act Campaign Inc. since 2005.
As Social Justice Commissioner, she advocated for the rights of Aboriginal and Torres Strait Islander peoples in Australia and seeks to promote respect and understanding of these rights among the broader Australian community.
Immediately prior to commencing as Commissioner, Susan was also the Independent Chair of the IAG and NRMA Superannuation Plan and had been President of the Australian Institute of Superannuation Trustees from 2000 to 2007, member of the Australian Council of Superannuation Investors from 2001 to 2007, member of the ASX Corporate Governance Council from 2003 to 2007 and CEO of the Association of Superannuation Funds of Australia from 1993 to 1997.
Susan also held a number of positions at the University of New South Wales. She was Pro-chancellor and Council member from 1998, Chair of the UNSW Risk Committee from 2002 and Chair of the Advisory Council FASS UNSW since 2010.
From 1975 to 1988, Susan was Senator for the ACT, becoming the first woman to hold a Cabinet post in a federal Labor Government. She served in senior portfolios in the Hawke Government as Minister for Education and Youth Affairs, Minister Assisting the Prime Minister on the Status of Women and Special Minister of State. As Education Minister, Susan saw school retention rates double and universities and TAFEs grow significantly without the charging of tuition fees. She also pioneered extensive anti-discrimination and equal opportunity legislation, including the landmark Sex Discrimination Act 1984 and the Affirmative Action Act 1986.
In 1990, Susan was appointed Officer of the Order of Australia for her contribution to Parliament.
She published her autobiography, Catching the Waves, in 1999 and was a frequent media commentator on her areas of expertise.
Susan died on 27 September 2020 in Sydney, aged 77. 
---
Also available: