Former Age Discrimination Commissioner, The Hon Dr Kay Patterson AO
The Hon Dr Kay Patterson AO
Former Age Discrimination Commissioner: 2016

–

2023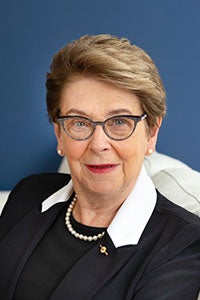 The Hon Dr Kay Patterson AO was appointed as Age Discrimination Commissioner on 28 July 2016 and completed her seven-year term on 28 July 2023. She is the second person in Australia to be appointed to this position. Dr Patterson's key priority areas were: improving recognition of, and responses to, elder abuse in the community; increasing employment opportunities for older workers and promoting positive ageing; and increasing housing security for older women at risk of homelessness.
During her term, Dr Patterson spearheaded various initiatives to further these goals, including advocacy, education, research and stakeholder engagement. These include national elder abuse awareness campaigns, developing and distributing elder abuse resources in 20 languages, and advocating for the harmonisation of enduring power of attorney laws in Australia and the establishment of a national register. She collaborated with the Australian Human Resources Institute on a survey of employers' attitudes towards older workers in 2018, 2021 and 2023, and used the results to draw attention to the barriers faced by older workers and promote age diversity in the workplace. Other significant projects include: Older women's risk of homelessness: background paper (2019); Your rights at retirement (2019); Older Workers Resource Hub (2021); What's age got to do with it? A snapshot of ageism across the Australian lifespan (2021); Talking about my generation: Australians 18–25 years old (2023); Planning ahead for later life (2023); and Changing perspectives: testing an ageism intervention (2023). She also championed the Centenarian Portrait Project by Teenagers (2017–2023) - a national intergenerational initiative - by opening its exhibitions and connecting it with potential funders, partners and the media.
Prior to being appointed as Age Discrimination Commissioner, Dr Patterson was elected to the Senate in 1987 and served on a number of Senate committees and held various shadow portfolios. She was appointed a Parliamentary Secretary in 1988 and in 2001 was appointed to Cabinet and served in the Health and Social Security portfolios. She retired from Cabinet in 2006 and from the Senate in 2008. 
She holds a BA (Hons) from the University of Sydney and a PhD in Psychology and Dip Ed from Monash University. She taught allied health science students for 11 years. After studying gerontology in the United States, Dr Patterson returned to Australia and co-developed the first Victorian post-graduate diploma in gerontology and introduced gerontology into the undergraduate behavioural science courses.
Dr Patterson has served on a number of not-for-profit Boards and voluntary positions. She has been a Director and Vice President of Interplast Australian New Zealand, a leader and Council and Executive Member of Girl Guides Victoria, and was a member of Monash University Council for 20 years. She was appointed as an Officer of the Order of Australia in 2016.
She was a Director of the Brockhoff Foundation for 15 years and is an Honorary Fellow at Monash University. She is also a member of the Australian Government's Council of Elders.
---
Also available