e-Bulletin, 1 August 2019
In this e-bulletin:
Discrimination Law Reform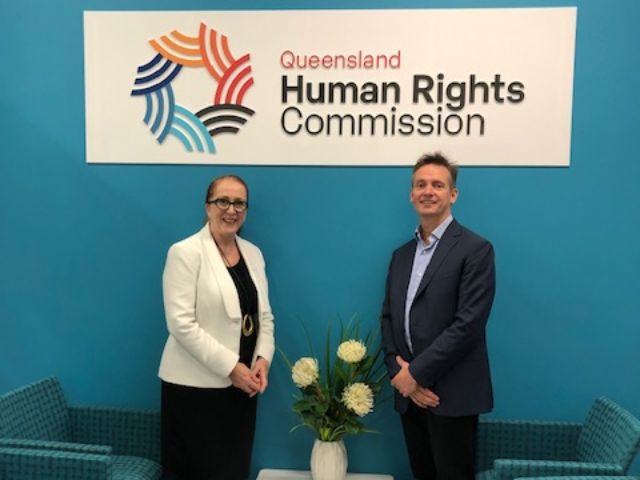 The Commission this week released a discussion paper setting out the Commission's proposals for federal discrimination law reform.
The paper identifies key challenges about the current operation of these laws and principles to guide a reform process.
It is part of the work Commission President Emeritus Professor Rosalind Croucher AM is leading as part of the National Conversation on Human Rights.
In recent weeks Professor Croucher conducted consultations for the National Conversation in Queensland and delivered a keynote address on human rights reform to the Castan Centre human rights conference.
Image: President Rosalind Croucher with Queensland Human Rights Commissioner, Scott McDougall
International Indigenous Photographic Exhibition
The Aboriginal and Torres Strait Islander Social Justice Commissioner June Oscar AO has launched the 'Hear Us, See Us' exhibition at the United Nations Human Rights Council in Geneva, Switzerland.
The exhibition includes photos and videos of Aboriginal and Torres Strait Islander women and girls who took part in national consultations for the Wiyi Yani U Thangani (Women's Voices) project.
"The Hear Us, See Us exhibition is a powerful display of Indigenous women and girls across the lands and seas of Australia. It celebrates the strengths of First Nations women and girls," Commissioner Oscar said.
Lives on hold
The Commission recently released a new report Lives on hold: Refugees and asylum seekers in the 'Legacy Caseload'.
It focused on approximately 30,000 refugees and asylum seekers, including families and children, who arrived in Australia by boat before 1 January 2014.
"These people face prolonged delays in assessing their refugee claims, with limited government support to meet their health and other needs.
"They risk severe deterioration in their living conditions and mental health, with many at higher risk of suicide," said Human Rights Commissioner Edward Santow.
Teenagers paint Queensland's oldest residents
The Centenarian Portrait Project is heading to Queensland later this month.
It involves 100 teenage artists creating portraits of Queensland's 100 year-old citizens.
"When young Australians spend time with older members of our community, these relationships lead to increased understanding and reduced misconceptions that can lead to ageism in our community," said Age Discrimination Commissioner Dr Kay Patterson.
The Exhibition opens on August 17 at Seven Hills Hub, 28 Tallowwood Street, Seven Hills.
'Free and Equal' early-bird tickets available
For the next fortnight, tickets at early bird discount prices are available for the Commission's major upcoming conference 'Free and Equal, A National Conversation on Human Rights'.
The conference is a once in a decade experience with a keynote address by UN Human Rights Commissioner Dr Michelle Bachelet, who is visiting Australia as our special guest.
It will feature human rights experts, industry and community leaders discussing how we can advance human rights into the 21st Century.
Multi-generation workforces
The Commission in partnership with the NSW Government has just released a guide to the rights of older workers.
It recognises that in Australia today we have five generations working side by side in the workforce.
But age discrimination still presents an enormous barrier to older Australians wanting to participate in the workforce.
"Australians are increasingly working – and wanting to work – as they age. Recruiters are behind the times by ignoring the value of this cohort, purely based on age," said Age Discrimination Commissioner, Dr Kay Patterson.
Working with children and young people
The National Children's Commissioner, Megan Mitchell, recently met with two groups of child rights champions.

The Commissioner participated in the UNICEF Australia's 2019-20 incoming Young Ambassadors training day, providing insights about her role and sharing tips and tricks on how to listen to and work with children and young people. 
The Commissioner was also interviewed by the Save the Children Australia Youth Advisory Committee and Young Ambassadors.

They were especially keen to hear about the Commissioner's upcoming trip to Geneva in September where she will be appearing before the Committee on the Rights of the Child, and asked if Megan could Vlog her experience.

There was a lot of excitement about being able to see the United Nations Offices, which many of them dreamed to visit one day.
Recent news
Recent speeches
Job Opportunities
For the latest media releases, speeches, opinion pieces, go to the media centre on the Commission's website and for events go to our Events list.