Human rights leaders share lessons from across the globe
For the first time since 2019, the Australian Human Rights Commission was able to participate in person at the annual Global Alliance of National Human Rights Institutions (GANHRI) meetings in Geneva.
Over the week of 13-17 March, Commission President Emeritus Professor Rosalind Croucher AM and Chief Executive Leanne Smith joined colleagues from around the globe to share experiences, lessons and good practice in promoting and protecting human rights.
The events marked the 75th Anniversary of the Universal Declaration of Human Rights and the 30th Anniversary of the Vienna Declaration and Programme of Action on Human Rights, including the Paris Principles for national human rights institutions (NHRIs).
The Commission President and Chief Executive participated in the following meetings:
The Asia Pacific Forum regional meeting, and as an elected member of the GANHRI leadership Bureau
Annual General Meeting of GANHRI – where more than 200 representatives from NHRIs met with states, civil society, academia and partners.
Commemorative Conference: Celebrating 75 years of the Universal Declaration of Human Rights
30 years of the Paris Principles: Reflecting where we are and where we go from here.
Ms Smith said: "Importantly, we were able to engage with the UN Deputy High Commissioner for Human Rights, the UN Special Rapporteur on Torture, Australia's Permanent Representative to the UN and Human Rights Defenders based in Geneva on the human rights situation in Australia."
"Sharing Australia's experiences, as one of the oldest NHRIs and drafters of the Paris Principles, was welcomed and appreciated. We were able to forge new relationships and partnerships with NHRIs in our region and beyond. The opportunity to learn from our peers is always revitalising for the work we do in Australia."
During the Annual General Meeting of GANHRI, members adopted a strategy for strengthening NHRI participation across the United Nations.
Members also adopted a powerful statement in which they expressed concern at severe rolling back of human rights protections and growing pressure on those who defend them. They resolved to continue cooperating with states and public institutions to create a safe space for human rights defenders. Read the GANHRI Annual General Meeting press release and statement.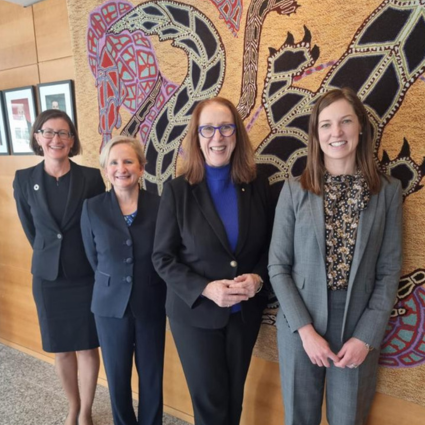 What is a national human rights institution (NHRI)?
NHRIs are established by the State, with a mandate to promote and protect human rights in their country.
They operate independently from the State and from the government. They monitor and report on the human rights situation in their country and investigate human rights violations.
The Paris Principles ('Principles Relating to the Status of National Human Rights Institutions') set out the minimum standards that NHRIs must meet in order to be considered credible and to operate effectively. The key pillars of the Paris Principles are pluralism, independence and effectiveness.
The Australian Human Rights Commission is one of the oldest NHRIs in the Asia Pacific region.