University of Sydney Speech
Sydney Town Hall speech to International Students
What is cyber-racism?
Racism can take many forms, such as jokes or comments that cause offence or hurt; name-calling or verbal abuse; harassment or intimidation, or public commentary that inflames hostility towards certain groups.
When racism takes place online it is known as cyber-racism. Cyber-racism can include words and images and may be communicated via websites, blogs and social networking sites, videos or email.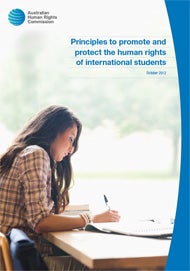 The rights of international students residing in Australia are a significant concern for the Commission and have a discernable set of human rights including the right to non discrimination, equality of treatment, security of the person, access to justice, housing, information, freedom of religion and culture, and labour rights.
Principles to promote and protect the human rights of international students
The implementation of these high-level, human rights-based Principles will enhance the safety and well-being of international students in Australia. The Race Discrimination Commissioner encourages all those working with international students to consider how these can be effectively adopted and implemented in the ongoing development of policies and services relating to international students.
2010 Media Release: Anti-violence Vindaloo initiative sends a powerful message
Race Discrimination Commissioner, Graeme Innes, said that today's Vindaloo Against Violence day sends an important symbolic message to the wider Australian community, and to the world, that the people of Melbourne and Australia do not support or condone violence against Indian people in any way.
2010 Media Release: International student report shows leadership
Race Discrimination Commissioner, Graeme Innes, said today that the Academy of Social Sciences in Australia and Universities Australia had exercised real leadership in committing to coordinate a series of policy workshops focusing on improving the safety, well being and experiences of international students in Australia.
2010 Media Release: International Student Strategy misses the mark
Race Discrimination Commissioner, Graeme Innes, welcomed today's long awaited release of the International Student Strategy for Australia 2010-2014 as recognition from the Government that Australia benefits socially, culturally, diplomatically and economically from international students who choose to study here, though he said it overlooked key areas.
2011 Media Release: Coordination and social research key to international student success
The International Student Futures in Australia research paper, released today, calls for coordinated cross-Government policy responses, informed by strong social research to help address the likelihood of a sharp decline of Australia's international education sector.
2011 Media Release: AIC report doesn't consider racial motivation
Race Discrimination Commissioner, Graeme Innes, said research released today did not help us better understand the extent to which racial motivation is at play in crimes against international students, and called for further research.