Complaints about breaches of human rights
Complaint Information Service
Complaints about breaches of human rights
The Australian Human Rights Commission Act (AHRC Act) brings into Australian law a number of rights contained in international human rights law.
You can make a complaint under the AHRC Act if you believe your human rights have been breached.
Under the AHRC Act human rights are defined in a very specific way. For an action to constitute a breach of a person's human rights:
the organisation against which you are complaining must be the Commonwealth or one of its agencies
the action you are complaining about must breach or infringe a right recognised in the international human rights instruments scheduled to or declared under the AHRC Act.
The following international instruments are scheduled to or declared under the AHRC Act:
Complaints lodged under the AHRC Act can be investigated and, if appropriate, resolved through conciliation.
If conciliation is unsuccessful or inappropriate – and if the Australian Human Rights Commission finds that your human rights have been breached – then we may prepare a report of the complaint, including recommendations for action, for the Attorney General. The report may be tabled in Parliament.
It is important to note that discrimination under the AHRC Act is not unlawful – instead, it is regarded as unfair conduct. Unlike the other anti-discrimination laws that the Commission has responsibilities under, you can not apply to have your complaint heard in court if conciliation is unsuccessful.
Find out more:
Complaints Process Flowchart - Brief overview of the Complaint Process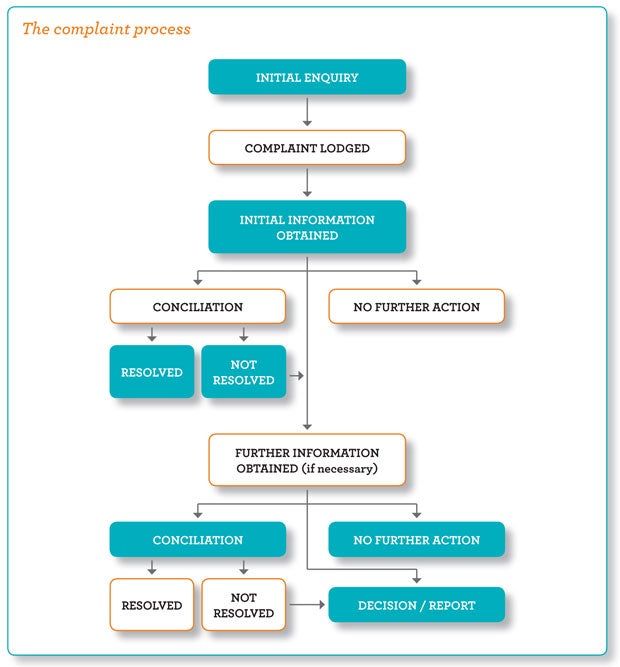 Contact us
For more information, contact the Complaints Infoline on 1300 656 419 (local call) or 02 9284 9888. You can also send us an email at complaintsinfo@humanrights.gov.au.