It's your right! - English as a Second Language (ESL) resource (2009)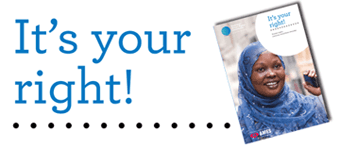 A teaching resource about human rights and responsibilities in Australia for adult English as a Second Language (ESL) learners.
"A wonderfully useful and empowering resource developed with great sensitivity and skill to both subject and the English language needs of the learners."
(Maria Naidoo, ESL teacher NSW)
It's your right! aims to increase awareness about the protection and promotion of human rights in Australia while developing English language skills.
This resource has been developed in partnership with Adult Multicultural Education Services (Victoria). The resource has also been extensively evaluated with ESL learners and teachers.
Developed to be delivered across a range of ESL proficiencies, this two level resource explores several cases of discrimination, in particular following the story of Hayat, a Muslim Ethiopian woman, who, after losing her job because her manager treats her unfairly, learns about her rights and the services available to her. She also learns that she has the power to do something to change her situation.
"The story captivates the students, they often don't know they have rights. They're amazed that Hayat stands up to the boss, as that's often culturally unacceptable in their countries"
(ESL advisor, Vic)
The key messages in the resource are:
human rights and equal opportunity laws in Australia protect people against unfair treatment and discrimination
with human rights come responsibilities that apply to all citizens
many people in Australia face particular issues and discrimination, for example, Muslim communities and Australia's Indigenous peoples
one way to respond to unfair treatment within the law is to know where to get advice and how to make a complaint
you have a right to make a complaint.
The Level 1 kit, mapped to the CSWE I & II, comprises an engaging illustrated reader, a classroom workbook and listening and pronunciation activities.
The Level 2 kit, mapped to the CSWE II & III, comprises a DVD, a classroom workbook and accompanying listening and pronunciation activities.
It's your right! is also suitable for secondary ESL learners.
The Attorney-General launched the ESL resource in Canberra on 28 May 2009. Click here to read the details of the launch.
---
It's your right!
Reader
Level 1 Resource contents
Level 2 Resource contents
DVD and video
Video files