Get the Facts - Fact Sheet 10
Get the Facts - Know your rights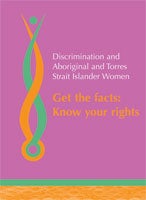 ---
Indigenous Women and Pregnancy Discrimination
FACT SHEET 10: Breastfeeding and Work
The law in Australia protects you from being
discriminated against because you are a breastfeeding
mother. This includes if you are expressing milk by hand
or with a breast pump to give your baby later.
When you return to work there are a number of things
your employer can do to help you to continue
breastfeeding.
Work Breaks
Taking a break to express milk or to breastfeed your
baby is important if you want to keep up your milk
supply and be comfortable while you are at work. If you
stop breastfeeding all day and don't express milk, often
your milk will dry up. See if you can get someone to
bring your baby to you at work so you can feed him or
her. Talk to your employer about how you can take
breaks during the day - this might mean making up the
time later or reducing the hours you are paid for.
Space
While babies can be breastfed anywhere and anytime,
to express milk most women find they need:
an area that is clean and private and can be locked up
(or has a lockable cupboard);
a comfortable seat, a sink to wash your hands, your
bottles and/or pump, and a power point; and
fridge or freezer space to store the milk.
Many workplaces can provide these at almost no cost.
If there is no parents' room, or not much space, you
may be able to use a first aid or sick room or other
unused room. Your workplace might be able to share a
room with another business in your building or close
by.
Support from the employer and co-workers
It can make a big difference if your employer makes
other workers aware that he or she supports
breastfeeding at work and explains what it involves.
Flexible work options
Settling your baby into childcare, even with a
grandmother, aunty or other family member, and
learning to express breastmilk can sometimes take a bit
of time. Having a bit of flexibility when you return from
maternity leave, or a gradual return to work can really
help breastfeeding mums. You may also be able to do
some of your work from home.
Example: Anna returned to work as a nurse in a
community health centre when her son Davy was
six months old. Anna's mother who lives close by
minds Davy while Anna is at work. Anna wants to
continue to breastfeed so she speaks to her
supervisor about allowing her to take a break each
morning and afternoon so she can go to her
mother's house and breastfeed. Anna's employer,
a State Health Department, allows breastfeeding
mothers to take lactation breaks of up to one hour
per eight hour work day to feed their baby or
express milk. This means Anna can take a paid
break during work time to breastfeed her son.