Get the Facts - Fact Sheet 6
Get the Facts - Know your rights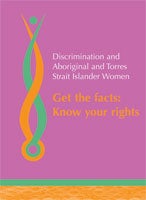 ---
Indigenous Women and Pregnancy Discrimination
FACT SHEET 6: Sickness and Pregnancy
Pregnancy is a normal healthy part of life for most
women. You will need to take some time away from
work or study to have your baby and if you take unpaid
maternity leave, you will need to take at least six weeks
after the birth of your baby. If you take another type of
leave there is no limit to the smallest amount of time
you can take and if you want to, you can return to work
a few days after your baby is born.
However, many women find themselves experiencing
some sickness during their pregnancies, ranging from a
small amount of morning sickness to dangerous
illnesses like toxaemia (high blood pressure in
pregnancy).
When you are pregnant, you are still able to take all
your normal leave entitlements like sick leave. Often
you can use your sick leave to attend appointments
with your midwife, doctor or hospital ante-natal clinic
during your pregnancy. Some industrial awards,
particularly some of those covering women working in
retail, have special leave called pre-natal leave to allow
you to go to appointments with your doctor or midwife
while you are pregnant.
You cannot be sacked because you are sick and need to
take leave during your pregnancy. If you have no paid
leave entitlements your employer must grant you
unpaid sick leave or special maternity leave if you are
too sick to go to work during your pregnancy.
Example: Mel began to feel very ill early in her
pregnancy. She took paid sick leave when she was
unable to come to work because of severe
vomiting. She used all her paid sick leave in the
first 3 months. So when she had to be hospitalised
for dehydration due to the vomiting she thought
she might need to resign from work. Mel phoned
her employer at the Aboriginal Land Council
where she worked who explained that even
though she had used up her paid sick leave, she
could take unpaid sick leave for as long as she
needed, until she began maternity leave.
Example: Erin works as a cook on a farm, a long
way from the nearest town. To travel into town to
see a doctor during her pregnancy takes a whole
day. Erin talks to her employer about taking time
off to attend doctor's appointments. Her employer
agrees that she can use her sick leave to attend
appointments and will arrange the appointments
in advance so that a replacement can be
organised to cover her work when she is not there.
Discrimination law in Australia also covers the
provision of goods and services as well as employment
and education. This means you cannot be refused
access to services including health care, because you
are Indigenous, a woman, pregnant or breastfeeding. It
is also against the law to be treated less favourably than
other people by a business or service such as health
care services.
Example: Jenny goes to her local
hospital for a check up during her
pregnancy with her mum and her
aunty. When Jenny says to the doctor
that she would like to have her baby
at home with her aunty who is a
midwife instead of coming into the
hospital, the doctor abuses them
saying that Aboriginal women can't
be trusted to make sensible decisions.
These comments could amount to
unlawful discrimination. Jenny and
her family make a complaint to the
hospital about the doctor's behaviour.