The Islamic Spectrum in Australia
The Islamic Spectrum in Australia
Project partner: Nexus Multicultural Arts Centre
Location: Adelaide, SA
Timeline: until May 2010*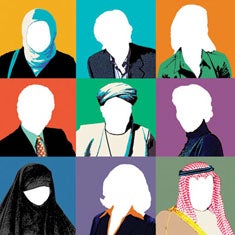 The project
2009 sees the second program of the Islamic Spectrum in Australia, following its debut in 2008. The program of events will explore the many faces of Islamic culture in Australia: art, architecture, food, religion, history and music.
The Islamic Spectrum in Australia aims to:
connect Muslim communities (from Middle Eastern communities and new and emerging African, Afghan and Asian communities) with non-Muslim communities
raise the general awareness, understanding and appreciation of Islam in the wider community
create opportunities for targeted government and non-government agencies to participate in and contribute to these creative and innovative processes, on an ongoing basis
Update:
The Islamic Spectrum in Australia begins on 29 July 2009 and all events will be held at the Nexus Multicultural Arts Centre in Adelaide. The program includes the following events:
Islam in Australia – building cultural bridges to the Muslim world is a one-day symposium on 29 July 2009 focusing on the cultural aspects of Islam in Australia. Speakers on art, architecture, food, religion, history and music will explore the affirmative influences of contemporary Islamic culture in Australia

Islam in Australia – youth forum on 31 July 2009 includes interactive workshops on Islamic music, food and art designed for younger audiences

Music of the Silk Road on 30 July 2009 will bring you Sufi mystic songs with their ambient and hypnotic resonance through to rhythmic folk songs of the Afghan and Punjab towns

The Brothahood will perform on 31 July 2009 and 1 August 2009. These young Australian rappers use hip-hop as a tool to break down stereotypes and misconceptions of 'Muslims in the West', creating a whole new theme to the Australian hip-hop scene whilst maintaining hip-hop's core essence

The Islamic Spectrum Exhibition features works by secondary students from the Islamic College of South Australia, inspired by Adelaide-born artist Jeffrey Smart, personal interpretations of multiculturalism and the cycles of nature

The Islamic Spectrum Exhibition will be opened by Mr Ikebal Adam Patel, President of the Australian Federation of Islamic Councils on 29 July 2009 from 5.30pm - 7.30pm, and can be seen from 30 July - 4 September 2009
*Nexus Multicultural Arts will undertake planning and development activities to determine the potential for the program to be sustained further into 2010/2011 and subsequent years.