Ismaع - Listen Home || Independent Research || Strategies Document || Audio Resources || Media Pack || Consultations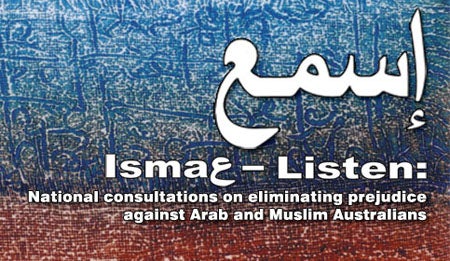 Table of Contents
---
Ordering the Ismaع Audio CD and Summary Report
The Ismaع
Audio CD and Summary Report can be ordered from the Human Rights and Equal
Opportunity Commission's Publications Unit (free of charge).
The Publications Order Form is available here in

Word
Format and

PDF
Format.
Contact the Publications Unit
Alternatively, contact the HREOC Publications
Unit via the Publications Homepage, on Tel: 02 9284 9672 or via email: publications@humanrights.gov.au for further information on ordering your copy of the report.
---
Download
Ismaع
- Listen in

PDF
format (1.06 MB)
To view these documents you will need to install a PDF viewer application
such as Adobe Acrobat Reader or Ghostscript.
Last updated 16 June 2004.