Fair trial and fair hearing rights
Back to rights and freedoms: right by right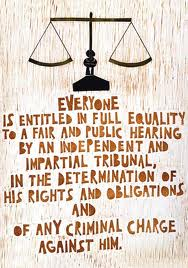 Article 14 is one of the most detailed provisions of the ICCPR. Most detail is provided in paragraphs 14.2 to 14.7. This site provides a separate page regarding those paragraphs which relate to criminal proceedings.
All legal proceedings, however, whether criminal, civil or otherwise categorised, are subject to Article 14.1, which states:
All persons shall be equal before the courts and tribunals. In the determination of any criminal charge against him, or of his rights and obligations in a suit at law, everyone shall be entitled to a fair and public hearing by a competent, independent and impartial tribunal established by law. The Press and the public may be excluded from all or part of a trial for reasons of morals, public order (ordre public) or national security in a democratic society, or when the interest of the private lives of the parties so requires, or to the extent strictly necessary in the opinion of the court in special circumstances where publicity would prejudice the interests of justice; but any judgement rendered in a criminal case or in a suit at law shall be made public except where the interest of juvenile persons otherwise requires or the proceedings concern matrimonial disputes or the guardianship of children.
Comments
Comments are invited on issues raised on this page, including suggestions for addition, amendments or additional resources, using the Comments field at the end of this page. Please note that
registration and log in is required to enable comments. This is purely in the interests of reducing non-authentic comments (including automated spam) and is subject to the Commission's privacy policy
posts which are irrelevant to the topic or are otherwise contrary to our social media guidelines may be deleted.
Please email if any difficulties are encountered in posting comments.