Back to rights and freedoms: right by right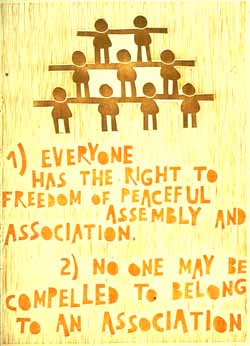 Article 22 | International scrutiny | Commission work | More information | Comments 
Article 22
ICCPR Article 22 states:
Everyone shall have the right to freedom of association with others, including the right to form and join trade unions for the protection of his interests.

No restrictions may be placed on the exercise of this right other than those which are prescribed by law and which are necessary in a democratic society in the interests of national security or public safety, public order ( ordre public ), the protection of public health or morals or the protection of the rights and freedoms of others. This article shall not prevent the imposition of lawful restrictions on members of the armed forces and of the police in their exercise of this right.

Nothing in this article shall authorize States Parties to the International Labour Organisation Convention of 1948 concerning Freedom of Association and Protection of the Right to Organize to take legislative measures which would prejudice, or to apply the law in such a manner as to prejudice, the guarantees provided for in that Convention.
This Article overlaps with ICESCR Article 8 which makes clearer, in relation to trade unions, that the right of freedom of association includes the right to participate in lawful activities of the association. 
As pointed out by the United Nations Special Rapporteur on the rights to freedom of peaceful assembly and of association:
The rights to freedom of peaceful assembly and of association serve as a vehicle for the exercise of many other civil, cultural, economic, political and social rights. The rights are essential components of democracy as they empower men and women to "express their political opinions, engage in literary and artistic pursuits and other cultural, economic and social activities, engage in religious observances or other beliefs, form and join trade unions and cooperatives, and elect leaders to represent their interests and hold them accountable" (Council resolution 15/21, preamble). Such interdependence and interrelatedness with other rights make them a valuable indicator of a State"s respect for the enjoyment of many other human rights.
Resolution 15/21 reaffirms that "everyone has the rights to freedom of peaceful assembly and of association" (emphasis added). This provision must be read jointly with article 2 of the International Covenant on Civil and Political Rights, which stipulates that "each State Party undertakes to respect and to ensure to all individuals within its territory and subject to its jurisdiction the rights recognized in the Covenant, without distinction of any kind, such as race, colour, sex, language, religion, political or other opinion, national or social origin, property, birth or other status" (emphasis added)., and article 26 thereof, which guarantees to all individuals equal and effective protection against discrimination on
grounds identified in article 2. This applies inter alia to minors, indigenous peoples, persons with disabilities, persons belonging to minority groups or other groups at risk, including those victims of discrimination because of their sexual orientation and gender identity (see Council resolution 17/19), non-nationals including stateless persons, refugees or migrants, as well as associations, including unregistered groups. The rights to freedom of peaceful assembly and of association are key human rights in international human rights law, which are enshrined in article 20 of the Universal Declaration of Human Rights.
The importance of freedom of association for a democratic society was reaffirmed by the High Court of Australia in Unions NSW v New South Wales.
See the Commission page on permissible limitations on rights for discussion of limited restrictions which may be imposed on freedom of association including for the protection of other rights.
International scrutiny
Commission work
More information
Comments
Comments are invited on issues raised on this page, including suggestions for addition, amendments or additional resources, using the Comments field at the end of this page. Please note that
Please email if any difficulties are encountered in posting comments.