Freedom from slavery and forced labour
Back to rights and freedoms: right by right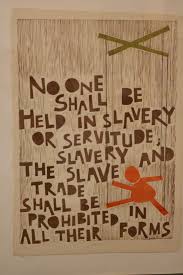 Introduction | Commission work | More information | Links | Comments
Introduction
ICCPR Article 8 states:
No one shall be held in slavery; slavery and the slave-trade in all their forms shall be prohibited.

No one shall be held in servitude.

(a) No one shall be required to perform forced or compulsory labour;


(b) Paragraph 3(a) shall not be held to preclude, in countries where imprisonment with hard labour may be imposed as a punishment for a crime, the performance of hard labour in pursuance of a sentence to such punishment by a competent court;


(c) For the purpose of this paragraph the term "forced or compulsory labour" shall not include:


(i) Any work or service, not referred to in sub-paragraph (b), normally required of a person who is under detention in consequence of a lawful order of a court, or of a person during conditional release from such detention;


(ii) Any service of a military character and, in countries where conscientious objection is recognized, any national service required by law of conscientious objectors;
iii) Any service exacted in cases of emergency or calamity threatening the life or well-being of the community;


(iv) Any work or service which forms part of normal civil obligations.
Commission work
International scrutiny
More information
Links
Comments
Comments are invited on issues raised on this page, including suggestions for addition, amendments or additional resources, using the Comments field at the end of this page. Please note that
registration and log in is required to enable comments. This is purely in the interests of reducing non-authentic comments (including automated spam) and is subject to the Commission's privacy policy
posts which are irrelevant to the topic or are otherwise contrary to our social media guidelines may be deleted.
Please email if any difficulties are encountered in posting comments.