Freedom from torture or cruel, degrading or inhuman treatment or punishment
Back to rights and freedoms: right by right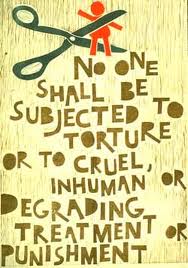 Introduction | Commission work | International scrutiny | More information | Links | Comments
Introduction
ICCPR Article 7 states:
No one shall be subjected to torture or to cruel, inhuman or degrading treatment or punishment. In particular, no one shall be subjected without his free consent to medical or scientific experimentation.
The Commission is working to support ratification by Australia of the Optional Protocol to the Convention Against Torture which would include establishment of a National Preventive Mechanism for Australia. 
Commission work
Reports | Submissions | Other work : violence, harrassment, bullying
Commission reports raising ICCPR Article 7 issues
When the Commission receives a complaint under the Australian Human Rights Commission Act, the Commission will attempt to resolve the complaint through conciliation.
If conciliation is unsuccessful or inappropriate and the Commission finds that there has been a breach of human rights occurred,  the Commission can prepare a report of the complaint, including recommendations for action, for the Attorney General. The report must be tabled in Parliament.
All Reports under the Australian Human Rights Commission Act are available on our website. A new page on this site lists reports raising ICCPR Article 7 issues specifically with brief summaries.
Commission submissions raising ICCPR Article 7 issues
Commission submissions generally are available here on this site. A new page on this site lists submissions raising ICCPR Article 7 issues specifically.
Other Commission work: Violence, harassment and bullying
Most discussion of issues of torture or other cruel, inhuman or degrading treatment or punishment deals with treatment of people who are in the custody of agents of the State. The scope of the rights recognised in Article 7 however is not restricted either to actions of specific actors such as police and prison officials, or specific locations such as detention centres .
The Commission's work on violence, harrassment and bullying deals with some of the broader range of situations and behaviour covered by ICCPR Article 7.
See also the Attorney-Generals's Department Guidance Sheet
International scrutiny
General comments
Consideration of communications
Elmi v Australia
In 1998 Mr Sadiq Shek Elmi, a failed asylum seeker, lodged a complaint with the Committee against Torture. He claimed that his deportation to Somalia would constitute a violation of Article 3 of the Convention against Torture, because he was a member of a member of a minority clan which had a well-documented history of persecution in Mogadishu. There was evidence that other members of his family had been targeted by that clan.
The Committee determined that Australia had an obligation to refrain from forcibly returning Mr Elmi to Somalia or to any other country where he runs a risk of being expelled or returned to Somalia because of the danger of him being subjected to torture in Somalia. The Committee noted that the majority clan in Mogadishu could be regarded as exercising de facto control, and was therefore responsible for any acts of torture for the purposes of the Convention. Mr Elmi was subsequently permitted to stay in Australia.
More information
Links
Comments
Comments are invited on issues raised on this page, including suggestions for addition, amendments or additional resources, using the Comments field at the end of this page. Please note that
registration and log in is required to enable comments. This is purely in the interests of reducing non-authentic comments (including automated spam) and is subject to the Commission's privacy policy
posts which are irrelevant to the topic or are otherwise contrary to our social media guidelines may be deleted.
Please email if any difficulties are encountered in posting comments.