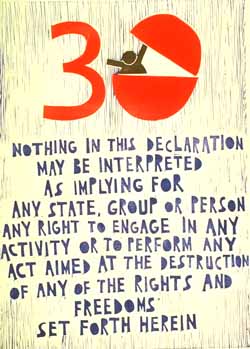 Back to rights and freedoms: right by right
ICCPR Article 5 states:
Nothing in the present Covenant may be interpreted as implying for any State, group or person any right to engage in any activity or perform any act aimed at the destruction of any of the rights and freedoms recognized herein or at their limitation to a greater extent than is provided for in the present Covenant.

There shall be no restriction upon or derogation from any of the fundamental human rights recognized or existing in any State Party to the present Covenant pursuant to law, conventions, regulations or custom on the pretext that the present Covenant does not recognize such rights or that it recognizes them to a lesser extent
Other major human rights instruments following from the Universal Declaration of Human Rights contain similar provisions.
Comments
Comments are invited on issues raised on this page, including suggestions for addition, amendments or additional resources, using the Comments field at the end of this page. Please note that
registration and log in is required to enable comments. This is purely in the interests of reducing non-authentic comments (including automated spam) and is subject to the Commission's privacy policy
posts which are irrelevant to the topic or are otherwise contrary to our social media guidelines may be deleted.
Please email if any difficulties are encountered in posting comments.