Right to an effective remedy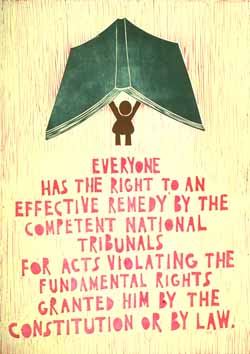 Back to rights and freedoms: Right by right
Even when appropriate legal and other measures to protect and promote human rights are in place, breaches of rights can still occur.The right to an effective remedy is an essential component of human rights under the ICCPR and other human rights instruments.
ICCPR Article 2.3 states: 
Each State Party to the present Covenant undertakes:

(a) To ensure that any person whose rights or freedoms as herein recognized are violated shall have an effective remedy, notwithstanding that the violation has been committed by persons acting in an official capacity;

(b) To ensure that any person claiming such a remedy shall have his right thereto determined by competent judicial, administrative or legislative authorities, or by any other competent authority provided for by the legal system of the State, and to develop the possibilities of judicial remedy;

(c) To ensure that the competent authorities shall enforce such remedies when granted.
Other instruments  similiarly require that effective remedies be available. (CAT Article 14; CEDAW article 2; CERD Article 6; and implicitly required in CRPD Article 4)
As well as noting the importance of judicial and administrative remedies, the Human Rights Committee has noted
the importance of investigative measures to ensure that breaches of human rights and those responsible for breaches are identified 

the important roles which may be played by national human rights institutions

that 

remedies should include compensation and other remedial measures, and should also include preventive measures which may include changes in laws, policies and practices.

that in some cases an appropriate remedy may include making an apology. The National Apology which followed from the Commission's Stolen Generations inquiry provide a clear example in this respect. Apologies are also requently a part of agreed resolution of complaints to the Commission.
Mechanisms under the ICCPR and other human rights instruments for individual complaints to the ICCPR and other treaty monitoring bodies require that complainants have first exhausted all domestic remedies. In any such complaints involving Australia there will accordingly be issues regarding whether an effective domestic remedy is available.
More information