Right to security of the person and freedom from arbitrary detention
Back to rights and freedoms: right by right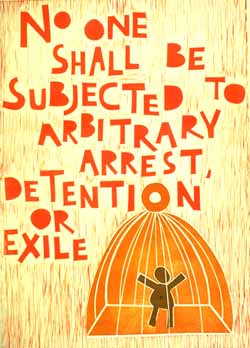 Introduction | Commission work | International scrutiny | More information | Comments
Introduction
ICCPR Article 9 states:
Everyone has the right to liberty and security of person. No one shall be subjected to arbitrary arrest or detention. No one shall be deprived of his liberty except on such grounds and in accordance with such procedure as are established by law.

Anyone who is arrested shall be informed, at the time of arrest, of the reasons for his arrest and shall be promptly informed of any charges against him.

Anyone arrested or detained on a criminal charge shall be brought promptly before a judge or other officer authorized by law to exercise judicial power and shall be entitled to trial within a reasonable time or to release. It shall not be the general rule that persons awaiting trial shall be detained in custody, but release may be subject to guarantees to appear for trial, at any other stage of the judicial proceedings, and, should occasion arise, for execution of the judgement.

Anyone who is deprived of his liberty by arrest or detention shall be entitled to take proceedings before a court, in order that that court may decide without delay on the lawfulness of his detention and order his release if the detention is not lawful.

Anyone who has been the victim of unlawful arrest or detention shall have an enforceable right to compensation.
Commission work
ICCPR Article 9 addresses some of the most basic liberty rights, and has been the subject of a large amount of Commission work, particularly but not only in the context of immigration detention.
Submissions 
Submissions specifically addressing ICCPR Article 9 are being made available here. Submissions are also available on our submissions page
Reports 
Reports specifically addressing ICCPR Article 9 are being made available here. Reports by the Commission under the Australian Human Rights Commission Act are also listed on our Legal Publications page.
Current projects
International Scrutiny
Human RIghts Committee views on communications and Government responses
Tillman v Australia (2010)
Detention following completion of sentence under the Queensland Dangerous Prisoners (Sexual Offenders) Act 2003 found to be in breach of ICCPR article 9.1
Yin Fong v Australia (2009)
The Committee found a violation of article 9, paragraph 1, with respect to the author's detention, and potential violations of article 6 and article 7, in the event that Australia were to forcibly remove the author to a country which maintains the death penalty, without adequate assurances. The Committee concluded that the author was entitled to an appropriate remedy to include protection from removal without adequate assurances, as well as adequate compensation for the length of the detention to which the author was subjected.
Shams et al v Australia (2007)
Arbitrary/mandatory detention and failure to review lawfulness of detention; Inhuman and degrading treatment in detention - ICCPR articles 9.1, 9.4; 7; 10.1 
Claims regarding treatment in detention rejected in part for non-substantiation and non-exhaustion of domestic remedies
Arguments by Australia on domestic remedies regarding arbitrary detention rejected
Committee concluded that authors' detention for a period of between three and over four years without any chance of substantive judicial review was arbitrary within the meaning of article 9
Breaches found of articles 9.1, 9.4, and 2.3.
D and E v Australia (2007)
In 2002 an Iranian family, including two young children, made a complaint to the Human Rights Committee that Australia had violated their right to be protected from arbitrary detention under the ICCPR by detaining them for three years and two months in Curtin Detention Centre. Their application for asylum had been refused twice and the Minister had declined to exercise his discretion to grant a favourable outcome under s 417 of the Migration Act 1958 (Cth).
In its submissions to the Committee, Australia argued that the complaint was inadmissible because, inter alia, the family had not exhausted all possible domestic avenues, in particular those available to it in the form of judicial review to the Federal Court or the High Court of Australia. The Committee did not accept this submission, noting that because Australia's High Court has held the policy of mandatory detention constitutional, this remedy would not have been effective. As a result it was not necessary for the family to have pursued a judicial review claim in the Courts before the Committee could hear the family's claim.
The Committee agreed that the family's detention was in breach of Article 9(1) of the ICCPR, reaffirming its previous jurisprudence that detention will become arbitrary if it continues beyond the period for which a state party can provide appropriate justification. The Committee observed that in this particular case 'whatever justification there may have been for an initial detention' Australia had failed to demonstrate that the detention was justified for such an extended period or that compliance with Australia's immigration policies could not have been achieved by less intrusive measures.
The Committee further found that the allegation that the prolonged detention of children breached Article 24(1) of the ICCPR was insufficiently substantiated in light of Australia's efforts to provide educational and recreational programs for children in immigration detention
In its response the Government rejected the finding of arbitrary detention.
Bakhtiyari v Australia (2003)
In 2003 the Bakhtiyari family lodged a complaint with the Committee on the basis inter alia that the Australian Government had violated the rights of the child as enunciated in Article 24(1) of the ICCPR as a result of the Bakhtiyari children being kept in immigration detention for two years and eight months.
The Committee agreed with the applicant. It held that that the principle - that in all decisions affecting a child his/her best interests shall be a primary consideration - forms an integral part of every child's right to such measures of protection as required by his or her status as a minor, on the part of his or her family, society and the State - as required by Article 24(1) of the ICCPR.
The Committee observed that in this case the children had suffered demonstrable, documented and on-going adverse effects of detention up until the point of release on 25 August 2003. It also noted that detention was arbitrary and thus violated Article 9, paragraph 1, of the ICCPR.
As a result, the Committee considered that the measures taken by the State Party had not been guided by the best interests of the children, and thus revealed a violation of Article 24(1) of the Covenant, namely the children's right to such measures of protection as required by their status as minors at that  point in time.
C v Australia (2002)
Applicant had been granted refugee status as an Assyrian Christian; facing deportation after committing serious crimes and development of paranoid psychosis. Commitee found breach of ICCPR articles 7 and 9 in protracted detention leading to development of psychiatric illness and recommended that he not be deported to Iran where he would face persecution and be unlikely to have available effective health treatment
A v Australia (1997)
A Cambodian asylum seeker, identified only as A, complained to the Human Rights Committee that Australia had violated his rights under the ICCPR by detaining him in immigration detention for more than four years. The Human Rights Committee agreed that Australia had violated Article 9 of the Convention because A had been subject to arbitrary detention and denied an effective opportunity to have the lawfulness of his detention reviewed by a court. The Committee stated that Australia should pay compensation to A. T
The Australian Government did not accept the Human Rights Committee's view and refused to pay compensation to A.
Shafiq v Australia (2006)
The complainant was detained awaiting deportation to Bangladesh. He was detained in a pyschiatric hospital due to mental illness which he had acquired during six yers of detention. The Committee found breaches of ICCPR Article 9 . and 9..4. The Government in response infromed the Commmittee that Mr Shafiq had been released from detention pursuant to new arrangements for bridging visas. The Governmetn rejected the Committee's finding of a berach of ICCPR Article 9.4 on the basis that the requiremetn for provision for review of detention meant only a review of legaility under domestic law rather than review for consistency with international law.
Kwok v Australia
Detention for four years during consideraton of deportation found arbitrary. Argument rejected that deportation to death penalty state without assurances only presents a real risk to right to life once sentence of death passed.
More information
Comments
Comments are invited on issues raised on this page, including suggestions for addition, amendments or additional resources, using the Comments field at the end of this page. Please note that
registration and log in is required to enable comments. This is purely in the interests of reducing non-authentic comments (including automated spam) and is subject to the Commission's privacy policy
posts which are irrelevant to the topic or are otherwise contrary to our social media guidelines may be deleted.
Please email if any difficulties are encountered in posting comments.