An International Comparison of the Racial Discrimination Act 1975 (2008)
An International Comparison of the Racial Discrimination Act 1975
(2008)
---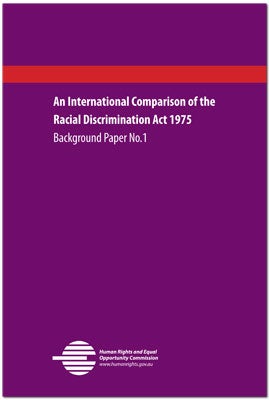 Table of Contents
---
The Racial Discrimination Act 1975 (Cth) (RDA) came into effect 33 years ago. It was Australia's first federal law dealing with human rights and implemented a basic principle of international law: the principle prohibiting discrimination against people on the basis of their race, colour, or national or ethnic origin.
It is important that the RDA continues to be reviewed against the goals it seeks to achieve; equality and non-discrimination. It is also important that the legislation remains responsive to the changing makeup and attitudes of Australian society.
This paper seeks to contribute to an analysis of the continuing usefulness and effectiveness of the RDA by placing it in context with contemporary race discrimination legislation in other global jurisdictions.
The research for this publication was finalised in November 2007. Thus it does not contain changes to legislation made after this date.
---
ISBN: 978-1-921449-02-4
The Australian Human Rights Commission would like to acknowledge Simone Krause (legal research), and the staff of the Racial Discrimination Unit for their contributions to this research paper.