'Cronulla: could it happen here?'
'Cronulla: could it happen
here?'
Managing racial conflict and building community
Speech by Acting Race Discrimination Commissioner Tom Calma at Local Government New Zealand
conference,
17 – 19 July, 2006
Wellington, New
Zealand
---
New Zealand
18 July, 2006
Tena
ko to, tena ko to, tena ka to, kia ora ladies and gentlemen.
I would like
to begin by acknowledging and paying my respects to the traditional owners of
the land on which we stand today and I acknowledge Minister Chris Carter,
Minister for Ethnic Affairs, Joris De Bres, Race Commissioner with the NZ Human
Rights Commission, distinguished guest, Mayors, Councilors and friends.
I
would also like to thank local government New Zealand for inviting me to speak
at this very important conference.
As the acting Race Discrimination
Commissioner my role is to promote and monitor compliance with the federal
Racial Discrimination Act. This includes monitoring racism, conducting research
and developing education programs to combat racism in all its forms. The
recognition and protection of diversity, and cultural, and religious rights is
an important part of what we do.
Late last year, about the time I and
others were marking the 30th anniversary of the introduction of the
national Racial Discrimination Act in Australia, race relations in the Cronulla
area of Sydney were building into the melee that we all witnessed as national
and international headlines on TV and in the print media.
Four days into
the 2005 summer season in Sydney, on Sunday 4 December, two volunteer lifesavers
were bashed on Cronulla beach after an altercation with young Australians
believed to be of Lebanese background. This incident was labeled as a racial
conflict and was followed by strong condemnation of the attack on an
'Aussie icon' - with many calling the act
"un-Australian."
This was followed by a week of disturbing
mobile phone text messages urging all "Aussies" to gather at
Cronulla the following Sunday, waging "war on lebs and wogs", and
protest against attacks on the "Australian way of life". No appeal
for calm from political and community leaders was made. On national radio, talk
back radio hosts read out the full text messages being circulated.
Exactly one week later, on Sunday 11 December, over 5,000 Australians,
mostly of Anglo Australian background, gathered at north Cronulla beach. Their
protest was against Lebanese and Arab young people, whom they accuse of engaging
in anti-social behaviour, including harassing locals and sexually intimidating
women at the beach and taking up large spaces on the beach to play soccer or
other games. They came together to "reclaim their beach" and take
matters into their own hands.
What started off as a call for locals to
show unity against violence at the beach, and a relatively peaceful gathering in
the morning, turned into what is now known as the Cronulla riots or
"Cronulla anti-social behaviour" as some people prefer to call it.
As the video clips indicate, it turned ugly as the alcohol charged crowd, many
of whom were draped in the Australian flag, occasionally singing the national
anthem and chanting racist slogans aimed at "lebs",
"wogs" and "Muslims", called on these people to
'get off our beach', that it was 'their land' and
'to go back to their own country'.
People, who were
perceived as being of 'middle eastern background' or simply of
'ethnic origin', were chased and brutally attacked. Moving from the
beach to the main roads, shopping district and trains, rioters continued to
violently attack 'foreigners', including two on the local train and
cars with youths of middle eastern appearance being jumped on. Police and
paramedics were also attacked as they protected and tried to rescue those being
targeted. Right–wing white supremacists seized the day and used it as a
platform for distributing anti-multiculturalism, anti-immigration and
anti-Muslim literature.
Several days of reprisal attacks followed. The
day after the riot over 2,000 people gathered outside Sydney's largest
mosque with religious and community leaders urging the community to keep the
peace. This was largely ignored by many young men, who do not normally identify
with such leaders nor consider themselves religious. These men drove to
Cronulla and surrounding beachside suburbs seeking revenge. They smashed parked
cars and shop windows, bashed locals and stabbed a man in the back outside the
local golf club.
The violence continued for days as text messages were
sent "in a call for Arabs and Muslims to protect themselves and seek
revenge." The violence and hatred from both sides spread across suburbs
and states throughout Australia. A Christian church was burnt down, and an
attack on a family of Middle Eastern descent in Perth in Western Australia and
an Australian Lebanese taxi driver in Adelaide in South Australia were linked to
the Cronulla riot. Victoria police successfully intercepted text messages
calling for race riots in Melbourne. Queensland, western Australia, South
Australia and Tasmania were also reported as having anti-Arab text messages
being circulated, calling for a "show of force". At the same time
Lebanese youths were urging further reprisal attacks at Cronulla the following
weekend - also through text messages. All leaders called for calm and no
incidents of violence were reported at the beaches the following weekend.
Four days after the riot, legislation providing for new police powers
was enacted in the NSW parliament to enable police to search all cars and check
the ID of people entering the area.
In relation to both the riot and
the reprisal attacks, police made 87 arrests and laid 239 charges. The most
common charge was affray and riot. Other charges included assaulting police,
threatening violence, malicious damage and resisting arrest. Of the 87
arrested, 19 were prosecuted leading to 14 convictions. Four have been
jailed. Three were fined, one received a suspended sentence, and two received
bond orders and four got community service orders. This means 73% of those
accused of crimes related to the riot have not proceeded. The most recent
arrest was of one man for inciting violence by sending the original text message
and one man has been charged for the stabbing of the local Cronulla man. And
because race hate is not a crime in NSW, none will face these charges.
That
summer, numbers on Cronulla beach, indeed all Sydney beachers, were at a record
low. Immediately following the riot, during the peak holiday season, only
twenty people went to Cronulla beach on a hot summer's day that would
usually attract thousands.
On Australia day, 26 January, around 800
police were at hand to deal with any racial violence. And while white
supremacists were encouraging people to rally at Cronulla on that day, no
incidents of violence were recorded.
The Cronulla riot was indeed a sad
time in Australia's history. While Sydney's highest rating
breakfast show host claimed that he "led the charge for a community show
of force" in Cronulla, the initial response to the riot was one of regret
by most Australians.
So what was the initial response to the
riots?
Politicians and community and religious leaders alike condemned
the riot. Prime Minister John Howard stopped short of calling it racism and
declared "I do not accept that there is underlying racism in this
country." In his national Australia Day speech, four weeks after the
riot, he called for a renewal of the teaching of Australia's history in
schools. The NSW State Premier, only days earlier had announced that students
of government public schools would be taught about Australian values as part of
a revamp of Australian studies. The Australian Democrats' multi-cultural
affairs spokesman condemned the violence as "mindless racism cloaked as a
distorted form of nationalism." The NSW Premier described the behaviour
as "disgraceful" and "cowardly" and the NSW Police
Commissioner called it "un-Australian".
The reprisal
attacks drew even more comment and the focus quickly moved to criticizing the
anti-social behaviour of Lebanese Muslim Australians. On the reprisal attacks
the NSW premier criticised "violent gangs" that had "caused
inconvenience by emptying many of Sydney's beaches at the height of
summer." The State Opposition Leader called for them to be "locked
up". Following this, and with a state election just 12 months away, the
state government set up a Middle Eastern Crime Taskforce to deal specifically
with Middle Eastern crime in Sydney.
However, rather than taking sides,
some people's response was to seek unity between the communities involved
in the riots. Actress Cate Blanchett, along with other prominent Australians,
read a joint statement at Coogee beach in which they called for "all
Australians, regardless of religion or ethnic origin, to work together to end
violence on our streets'.
Anthony Mundine, a famous boxer in Australia,
who is both Muslim and Aboriginal, and Hakim El Mazri, a rugby league player who
has a Lebanese background, met at a local Sydney beach which was the scene of
some of the violence, for a game of touch football. The match was organised by
the local city council mayor in a bid to encourage people to go back to the
suburb and its beaches.
Peace rallies took place celebrating
multiculturalism, with Australian and international flags been waved, chanting
"Muslims are welcome, racists are not." In another rally, with the
Australian flag wrapped like a Muslim burqa over their faces, silent protestors
numbered more than 10,000.
So what are the local factors behind the
Cronulla riots?
Following these immediate responses, local, state and
federal governments as well as community based groups have developed and
implemented (or are implementing) medium and long term strategies to address the
issues underlying the Cronulla riots.
What then are these issues and
how are they or should they be addressed? In answering this question I want to
focus firstly on the local issues.
Cronulla is a predominantly
middle-class, Anglo Australian community with the total population of almost
17,000, with half a percent indigenous and about 17% born overseas, mostly from
English speaking countries such as New Zealand and the UK. It is a beautiful
beachside suburb easily accessible by train from the south western suburbs of
Sydney where most of Sydney's Arabic speaking or Muslim Australians live.
Many of these Australians are experiencing high levels of
unemployment.
Cronulla also forms part of the Sutherland Shire Council,
often referred to by the locals as "God's country." With a
population of over 215,000, Sutherland shire is the second largest local
government area in NSW, and one of the biggest in terms of the number of people
it serves in Australia. Within its boundary is Kurnell, where James Cook first
landed on Australian soil, marking the beginning of colonisation in Australia.
The Shire and the south western suburbs of Sydney are connected by the Georges
River and it is a common joke in the area that you need a passport just to get
across it.
In discussions with local councilors and social planners
within the Sutherland Shire Council it is clear that within the Cronulla area,
there has been extensive investment by the community and the council in what is
referred to as bonding capital. That is, mechanisms that bring the community
together.
Cronulla is a close knit community. Members of the
Sutherland Shire are relatively homogenous in their ethnic background, mainly
Anglo Celtic, and this contributes to the community's overall social
cohesion. This in turn builds on the intimacy and ties that already exist
within the community. Over the past ten years or so, Cronulla Shire Council and
local community groups have developed mechanisms and projects to sustain the
bonds within the community.
In contrast to this investment in bonding
capital there has been relatively little investment in what is referred to as
bridging capital. That is, mechanisms that bridge the community to other groups
outside of their community. Very little has been done to establish links
between communities and individuals on the basis of common interests rather than
common identities.
At the local level it is important we bring these
two forms of social capital, bonding and bridging capital, into balance.
Outside communities who inevitably come into a local area, particularly a beach
area, must be made to feel welcome. There must be a capacity within a local
community to value diversity and difference. Many of the strategies and
initiatives that have taken place within Cronulla in response to the riots can
be seen as forms of investment in bridging capital aimed at long-term
attitudinal change.
As part of the commonwealth government's
living in harmony initiative the 'goodness and kindness campaign'
organised a successful event called 'harmony on the beach', which
brought together hundreds of school children from both the Sutherland Shire area
and the south western suburbs of Sydney to promote an understanding and
appreciation of difference through forums and a range of fun activities.
The goodness and kindness campaign with the support of the community
relations commission also worked in partnership with the local city council and
the Sutherland district trade union club, with the help of representatives from
the community and agencies, including HREOC, to hold an event entitled
'breaking the ice: respecting difference' that culminated in a
community forum on multiculturalism in Australia attended by hundreds of people.
Recently, the local Sutherland Shire Youth Council has met with the
local Bankstown Youth Council, to create understanding between cultures and
create opportunities for exchange.
There are many examples like this.
At the state level, the community relations commission for NSW, who are
the state multi-cultural agency, implemented a short term initiative that
employed community liaison officers to engage with the community at a local
level. Their role was to promote harmony and effective communication between
various groups in Cronulla, to dissuade anti-social behaviour and prevent
misunderstandings between groups. The local council is now looking at taking
over this project.
The community relations commission is also working
on a number of community development projects directed to bringing together
Sutherland shire residents and those in south western suburbs of Sydney. A
'dry surf' day, for instance, will feature cultural events as well
as beach style activities will take place in an inner west location (away from
the beach).
The federal government has also undertaken bridging
projects in the local area, one of which is to fund the recruitment of
lifesavers from diverse backgrounds to police the beach at Cronulla. Members of
the Lebanese community are also looking closely at the behavior of their young
men at the beach and the animosity that this behavior might provoke.
These then are the local issues and some of the governmental responses
to them. However, these local issues should not be looked at in isolation from
national and international factors. By understanding the way in which
international and national factors impact and interact with local issues we come
to understand how what start out as local conflicts around territory or anti -
social ways of playing games on a beach, transform into ugly racially based
conflicts between sectors of society.
It was the search for this
understanding that led HREOC to undertake the Isma project in 2003 - 2004.
(Isma is Arabic for listen). The consultations on which this project was based
revealed a disturbing level of discrimination and vilification against Arab and
Muslim Australians since the September attacks.
The Isma report
concluded that international factors like September 11 and the bail bombings,
and more recently the London attacks, increase the level of discrimination and
vilification experienced by Arab and Muslim Australian. This in turn alienates
the community from the rest of society, which in turn exacerbates the level of
discrimination that they experience. This spiral of discrimination followed by
marginalisation and alienation is fuelled by fear and prejudice and can manifest
into hate and retaliation.
Neither Australia nor New Zealand live in
isolation from the rest of the world and local government must recognize the
impact that international events have on their community. Like the
environmental movement, we must think globally and act locally.
What then
can local government do in New Zealand to ensure that Cronulla does not happen
here?
The following are in no order of priority, they are not silver
bullets and you may already be doing some or all of them but they are worth
reflecting on:
Adopt a human rights framework in developing local government policies.
Respecting human rights builds stronger communities.
Nurture, develop, support and establish partnerships between faiths and
ethnic minorities. The best progress made in Australia, particularly at a
regional and rural level, was where local government representatives are
actively engaged with each other in developing mechanisms to bridge their
respective communities.
Ensure that respect for different cultures is promoted by local government
as an integral part of their community. Positive contributions of all members
of society should be promoted and encouraged and recognised publicly. Local
regional media has a vital role to play in helping to ensure that the role and
contributions of all members of the community are visible to the outside
world.
Respectful dialogue with people of different cultures and religions needs to
take place. It is a vital skill for individuals, communities and governments to
learn. It is also one of the best investments we can make towards
international, national and regional peace and stability.
Support ethnic media in eliminating the stereotypes which can be resurrected
in response to national or international forces.
Ensure that local government staff participates in cross-cultural awareness
training.
Ensure public safety and security so that all people can enjoy safe and
secure lifestyles. This can be achieved by increasing awareness and
participation of all ethnic minorities in community affairs and neighbourhood
watches. Public safety will be of particular concern to children and young
people, especially on public transport and other public places.
Social and human services will need to take into consideration the
linguistic and cultural diversity of the community it is serving. These
services need to be readily available and accessible to all communities and
relevant to their needs.
Undertake broad-based public education and targeted education campaigns
aimed at specific groups such as schools, employers and service providers to
help dispel myths and negative stereotypes about particular community groups
such as Arabs and Muslims.
Managing racial conflict is never
easy, but there are very good reasons for local government to pursue the
strategies outlined above. Eight months after the riot, business in Cronulla
continues to suffer immensely as people living outside the area, including
international tourists, see it as a place of danger. As a result of the
downturn in trade following the riots, the NSW premier announced a publicity
campaign to promote business in the Cronulla and neighbouring areas.
Only
time will tell whether this publicity campaign has an effect but the message
should always be that racially or religiously motivated violence must never be
tolerated. It was a long summer last year in Cronulla and it has been an even
longer winter. We only hope that this summer will illustrate a good measure of
success and progress following the many projects that have been implemented in
the intervening period.
Cronulla: could it happen in New Zealand? In
my view, where local, national and international factors combine to create a
climate of intolerance, prejudice and fear, Cronulla could happen anywhere.
Strategies should be put in place to prevent this happening rather than taking
refuge in the idea that 'it could never happen here'.
Kia
Ora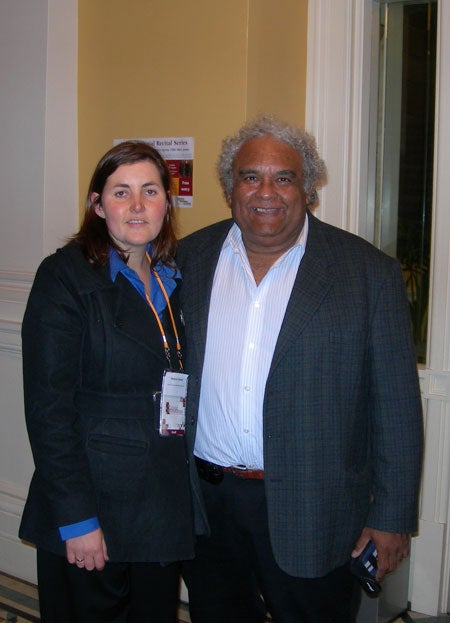 Photo: Acting Race Discrimination Commissioner Tom Calma with the Local Government New Zealand facilitator, Victoria Owen.