Disability Rights: Not for Service - Report: Foreword OZDOWSKI
Not for Service - Experiences of injustice and despair in mental health care in Australia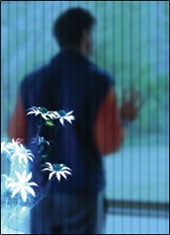 Human Rights Commissioner and Acting Disability Discrimination Commissioner, Human Rights and Equal Opportunity Commission
The States Parties to the present Covenant recognize the right of everyone to the enjoyment of the highest attainable standard of physical and mental health.

International Covenant on Economic Social and Cultural Rights, Article 12
Australia has made a commitment under international human rights law to provide the 'highest attainable standard' of mental health care. As one of the wealthiest nations in the world, this commitment means that Australia should be setting the example for others to follow. This report demonstrates that while Australia has made many advances, there is still a long way to go.
Since starting my term as Federal Human Rights Commissioner in 2000, I have met hundreds of people all over Australia from all walks of life. During the many conversations I had over the first few years, I was struck by the large number of people who came to me saying that their friend, neighbour or relative had a mental illness and that I simply wouldn't believe the trouble that they had in getting adequate care. I was therefore delighted to work with the Mental Health Council of Australia (MHCA) and the Brain and Mind Research Institute (BMRI) last year on community consultations regarding the human rights of the mentally ill.
Of course, the Human Rights and Equal Opportunity Commission (HREOC) has substantial background in this area. More than 10 years ago the Commission published the ground-breaking 'Burdekin Report' on Human Rights and Mental Illness. And just last year the Commission published a report on children in immigration detention - A last resort? One of the primary findings of that report was that children in long-term immigration detention were at high risk of mental illness and did not enjoy their human right to the highest attainable standard of mental health care.
This report is slightly different to the Commission's two other reports because its primary purpose has been to capture the personal stories of those people who interact with Australia's mental health care system on a daily basis. It was our view that governments needed to hear how Australia 's mental health consumers and professionals felt about the system that they were dealing with.
Some of the stories we heard demonstrated the incredible strength of the human spirit and perseverance of mental health professionals doing the best they possibly could in the circumstances. However, it must be said that the vast majority of stories described a crumbling mental health care system that brought about anguish and desperation.
There have been positive changes since the 1993 Burdekin Report was published. One has been a trend towards the de-institutionalisation of Australia 's mentally ill. Another has been the development of a National Mental Health Strategy that contains some positive policy initiatives which reflect Australia 's human rights obligations towards the mentally ill.
However, the stories we heard during these consultations suggest that the process of de-institutionalisation has not been accompanied by corresponding supports for mentally ill people to live in the community. This has left many people with serious illnesses without the help that they need and deserve. Further, Australia has some way to go before the ideas in the National Mental Health Strategy translate into a mental health care system that delivers 'the highest attainable standard' of health care.
While HREOC has been glad to lend its expertise to the consultation process, this report has been drafted by the MHCA and BMRI. I am extremely grateful for their enormous efforts and I feel privileged to have been involved in this project. I would particularly like to thank Keith Wilson, Dr Grace Groom, Professor Ian Hickie and John Mendoza for giving me the opportunity to learn from them. I also want to thank the various State, Territory and Commonwealth Government Ministers and officials who opened their doors to us and listened to what we had to say throughout this process. I hope that this report serves as a wake-up call and prompts our politicians into bringing about real change.
However, I am most grateful to the mental health consumers and their carers, the mental health practitioners and the community groups who so generously shared their very personal stories with us. They took the time to write submissions and to come to the community consultations. I thank them for their efforts and hope that this report does justice to their stories.
© Mental Health Council of Australia 2005. Last updated 29 August 2005.
Email:
admin@mhca.com.au