HREOC Website: Isma - Listen
Ismaع - Listen Home || Independent Research || Strategies Document || Audio Resources || Media Pack || Consultations
Consultations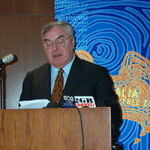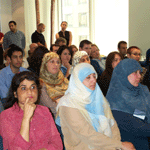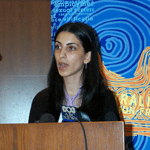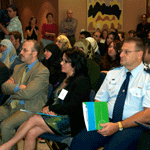 A project aimed at eliminating prejudice against
Arab and Muslim Australians was launched by acting Race Discrimination
Commissioner Dr Bill Jonas in Sydney on 21 March 2003 to coincide with
the International Day for the Elimination of Racial Discrimination.
Isma - Listen: National consultations
on eliminating prejudice against Arab and Muslim Australians
aims to restore and maintain harmony in the Australian community at a
time when negative feelings against these groups may arise.
The project aims to:
Enhance public awareness about Arab and Muslim Australians;
Encourage opinion leaders and community organisations to
demonstrate solidarity with Arab and Muslim Australians against racist
attacks;
Ensure that Arab and Muslim Australians, and other targets
such as Sikhs, are not isolated but can continue to participate fully
in society;
Empower communities to 'speak back' to ensure that Arab
and Muslim Australians are heard on issues affecting them;
Ensure that complaints about discrimination and vilification
are treated seriously;
Challenge vilification, discrimination and stereotyping.
To address these objectives, the Human Rights and Equal Opportunity
Commission will consult with federal, state and territory government agencies
and Arab and Muslim communities across Australia. To ensure consultations
are comprehensive, the Commission has employed a Community Liaison Officer,
Omeima Sukkarieh, and appointed a reference group of relevant representatives
from:
Al Zahra Islamic Council
Australian Arabic Communities Council
Australian Arabic Council
Australian Federation of Islamic Councils
Department of Immigration and Multicultural and Indigenous
Affairs
Islamic Women's Welfare Council of Victoria
Maronite Catholic Diocese of Australia
Multicultural Affairs Queensland
Muslim Women's National Network of Australia
NSW Police Service
NSW Department of Education & Training
SA Equal Opportunity Commission
United Muslim Women's Association
WA Office of Multicultural Interests
Senior journalist Christopher Kremmer, media personality
John Doyle (aka Roy Slaven) and independent youth representative,
Rawan Abdul - Nabi, complete the group.
---
Click on the links below to access:
Fact Sheets:
Meetings and consultations (with notes
where available)
Australian Capital Territory
New South Wales
Northern Territory
Queensland
South Australia
Tasmania
Victoria
Western Australia